Einstein Yori Dianna Agron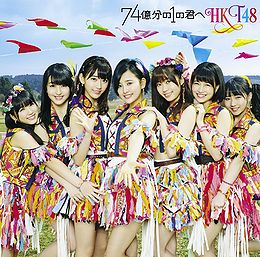 Einstein Yori Dianna Agron is a coupling song from HKT48's 7th single 74okubun no 1 no Kimi e, by NakoMiku & MeruMio.
Information
Artist
Composer/Arranger
Kanji Title

アインシュタインよりディアナ・アグロン
Romaji Title

AINSHUTAIN Yori DIANA AGURON
English Title

Dianna Agron > Einstein
Single
Lyrics can be found here.
Performing Members
Music Video (Short Ver.)
Trivia
The title contains the names of two real people, Albert Einstein and Dianna Agron. Dianna Agron played the character Quinn Fabray in the Drama-Comedy Musical Show, Glee

The lyrics of the song are about a girl who doesn't mind being ignorant, saying "Rather than Einstein, I prefer Dianna Agron (...) Just like in Glee." However, Dianna Agron is the name of the actress, not the Glee character. In addition, the character is a high-achieving student, not "ignorant" or "stupid" as the lyrics suggest. She has blonde hair and is cheerleading captain, so it is unknown if the reference was a mistake due to stereotypes and lack of research, or is meant to be sarcastic.