Team J 4th Stage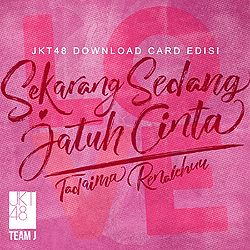 Tadaima Renaichuu (ただいま 恋愛中) is JKT48's Team J 4th Stage. The Stage is revival from Team A 4th Stage, with the song being sung on Indonesian
General Information
Stage Name

Tadaima Renaichuu (ただいま 恋愛中)

Stage Name (Indonesian)

Sekarang Sedang Jatuh Cinta

Team

2017.05.19 - 2019.01.??
Setlist
M00. overture
M01. Tadaima Renaichuu (ただいま 恋愛中 / Sekarang Sedang Jatuh Cinta)
M02. Kuma no Nuigurumi (くまのぬいぐるみ / Boneka Teddy Bear)
M03. Only today

M09. Darui Kanji (ダルイカンジ / Rasanya Malas)
M10. Mr. Kissman
M11. Kimi ga Oshiete Kureta (君が教えてくれた / Kamulah yang Memberitahu Aku)
M12. BINGO!
M13. Keibetsu Shiteita Aijou (軽蔑していた愛情 / Rasa Sayang yang Dulu Aku Remehkan)

Encore:
EN01. LOVE CHASE
EN02. Seifuku ga Jama wo Suru (制服が邪魔をする / Seragam Ini Sangat Mengganggu)
EN03. Nante Suteki na Sekai ni Umareta no Darou (なんて素敵な世界に生まれたのだろう / Betapa Indahnya Dunia Tempat Kita Lahir)

Gabriela Team J RE:BOOST Formation
Releases
Studio Recording
Artist

Album

Team J 4th Stage "Tadaima Renaichuu –Sekarang Sedang Jatuh Cinta–"

Release Date

2018.04.15

Label/Catalog Number/Price

Label: HITS Records
(Download Card) / Rp 35.000 for two songs
Members
Cindy Hapsari Maharani Pujiantoro Putri, Della Delila, Devi Kinal Putri, Dwi Putri Bonita, Feni Fitriyanti, Gabriela Margareth Warouw, Michelle Christo Kusnadi, Nurhayati, Priscillia Sari Dewi, Riskha Fairunissa, Saktia Oktapyani, Shania Junianatha, Sinka Juliani, Stephanie Pricilla Indarto Putri, Syahfira Angela Nurhaliza, Thalia Ivanka Elizabeth
Trivia
Members not featured in shonichi: Jessica Veranda, Nabilah Ratna Ayu Azalia, Sri Lintang, Zahra Yuriva Dermawan
Other Position Under & Position Swap

Pre RE:BOOST
Post RE:BOOST

Center Swap (Pre and Post RE:BOOST):
Trainee's Unders

Pre RE:BOOST
Post RE:BOOST

After releasing the Download Card, this stage had handshake event on June 30, 2018 in Menara 165, South Jakarta.
Participating Members
Della Delila, Dena Siti Rohyati, Devi Kinal Putri, Dwi Putri Bonita, Feni Fitriyanti, Gabriela Margareth Warouw, Melody Nurramdhani Laksani, Michelle Christo Kusnadi, Nabilah Ratna Ayu Azalia, Priscillia Sari Dewi, Riskha Fairunissa, Saktia Oktapyani, Shania Junianatha, Sinka Juliani, Sri Lintang, Syahfira Angela Nurhaliza, Thalia Ivanka Elizabeth, Viviyona Apriani, Zahra Yuriva Dermawan
Shonichi
Della Delila, Dena Siti Rohyati, Devi Kinal Putri, Dwi Putri Bonita, Feni Fitriyanti, Gabriela Margareth Warouw, Melody Nurramdhani Laksani, Michelle Christo Kusnadi, Priscillia Sari Dewi, Riskha Fairunissa, Saktia Oktapyani, Shania Junianatha, Sinka Juliani, Syahfira Angela Nurhaliza, Thalia Ivanka Elizabeth, Viviyona Apriani