Kodoku na Aozora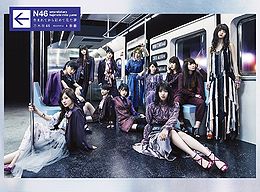 Kodoku no Aozora is a coupling song from Nogizaka46's 16th single Sayonara no Imi, by Senbatsu. The song is also included in Nogizaka46's 3rd album Umaretekara Hajimete Mita Yume.
Information
Artist

Nogizaka46 (乃木坂46)
Composer/Arranger

Aoba Hiroki, Kadono Toshikazu (Credited as aokado)
Kanji Title

孤独な青空
Romaji Title

Kodoku no aozora
English Title
Single
Lyrics can be found here.
Performing Members
1st Generation: Akimoto Manatsu, Ikuta Erika, Ikoma Rina, Ito Marika, Inoue Sayuri, Eto Misa, Saito Asuka, Sakurai Reika, Shiraishi Mai, Takayama Kazumi, Nakamoto Himeka, Nishino Nanase, Hashimoto Nanami, Hoshino Minami, Matsumura Sayuri, Wakatsuki Yumi