SDN48+10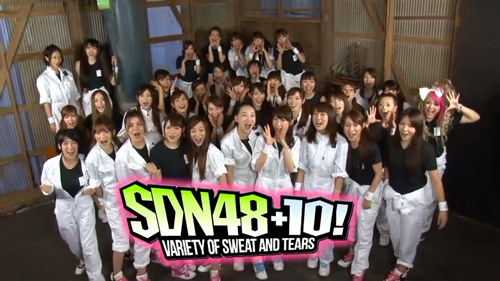 SDN48+10 is a SDN48 variety show.
Description
Name: SDN48+10! Start/End Date: 2010.08.01~
Broadcast Time: 58 minutes
TV Channel: CS 371! (Digital Cable)
Genere: Variety Show
MC: Factory President: Noro Kayo · Factory Vice-President: Nachu
Opening Theme: SDN48 - Ganbariina
Ending Theme: SDN48 - Aisareru Tame ni

Show Information
SDN48+10 is a spin-off version of the original Team B show AKB48+10, this time featuring SDN48. The plot of the show starts with the girls in their "SDN48 factory", where they work to build their dreams. Just like in AKB48+10, the girls will do different tasks and missions over the episodes to prove their motivation to make their objective come true.
Episode Summaries
Episode 1 (2010.08.01)
MC: Nachu · Ohori Megumi
Nachu · Ohori Megumi · Aikawa Yuki · Akiko · Ito Mana · Umeda Haruka · Oyama Aimi · Kaida Juri · Kato Mami · Kondo Sayaka · Serina · Takahashi Yui · Chen Qu · Nishikunihara Reiko · Noro Kayo · Tanisaki Tomomi · Fukuda Akane · Fukuyama Sakura · Mitsui Hiromi
1st Mission: Scream "SDN48+10" from Mr Fuji's top! (Part 1)
Episode 2 (2010.09.02)
MC: Nachu · Sato Yukari
Sato Yukari · Akita Kazue · Ito Kana · Imayoshi Megumi · Urano Kazumi · Okouchi Misa · Kimoto Yuki · Kouchi Masami · KONAN · Tanisaki Tomomi · Kohara Haruka · Tsuda Marina · Tezuka Machiko · Natsuko · Ninomiya Yuka · Fujikoso Yumi · Hosoda Miyuu · Matsushima Rumi
1st Mission: Scream "SDN48+10" from Mr Fuji's top! (Part 2)
Episode 3 (2010.10.03)
MC: Ito Mana · Hatakeyama Chisaki
2nd Mission: Camp Battle! (Part 1)