SDN48
SDN48
Location
Japan
Activity Period
2009.08.01 - 2012.03.31
Former Agency
AKS
Former Label
Universal Music
Debut Single
GAGAGA
Former Producer
Akimoto Yasushi
Former Official Site
sdn48.co.jp
History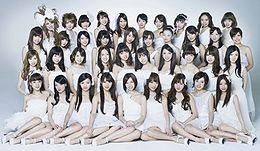 SDN48 (short for Saturdaynight48) was a Japanese Idol Group. They were known to be the "mature version" of AKB48, only with members aged 20 or above. The group shared a theater with AKB48, in Don Quixote, on Akihabara (Tokyo Prefecture). The 1st generation members were announced in July 2009. On March 31, 2012, all the members graduated from the group.
Overview
SDN is an acronym for Saturday Night. The group was created with the idea of performing at the AKB48 theater every Saturday night. However, they often held performances on other days of the week.
The group was composed entirely of members over 20 years old, and the average age in August 2010 was 23 years old. Many members had previously held jobs outside of entertainment, such as Shigin teachers, secretaries, married women, and other occupations.
The group often dressed in mature costumes and song lyrics included explicit phrases.

As a result, people under the age of 18 were prohibited from attending SDN48 theater shows. Later, some of these restrictions were removed.

The group included some former AKB48 members who had either graduated or had been transferred to SDN48.
On October 15, 2011 the Captain Noro Kayo announced the graduation of all SDN48 members at a theater performance. The group was then announced to disband in March 2012.
Differences from sister groups
The group did not have a dedicated theater, they performed at AKB48 Theater instead.
There were no teams.
The Love Ban rule did not apply.
They were the first and only 48Group to have married members. Later, Yoshimotozaka46 was created and allowed married members.
They did not participate in Senbatsu Elections or Janken Tournament.
History
Members
Single Units
Former Member Units
Discography
Singles
Albums
Stage Albums
Concerts
Stages
This stage was presented by all members, from all generations.
#
Stage name
Date
Performances
1
Yuuwaku no Garter
(誘惑のガーター)
2009.08.01 - 2012.03.28
338
TV Shows
Past Variety Shows