AKB48 Theater
AKB48 Theater
AKB48劇場
Location
Akihabara, Tokyo, Japan
Japan〒101-0021, Tokyo, Chiyoda-ku Kanda 4-3-3, Quijote Akihabara store 8F
Completion Date
November 2005
Unveiling Day
December 8, 2005
Capacity
250
Architect
Fuji Tetsuya
Theater Manager
Hosoi Takahiro
Owner
AKS
Web
akb48.co.jp/theater/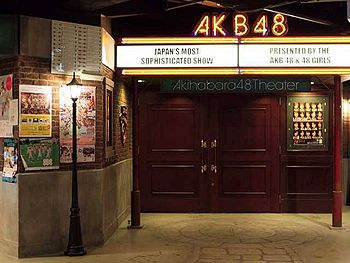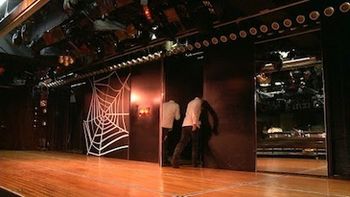 The AKB48 Theater (AKB48劇場), is where AKB48 was founded, and where they hold their Theater Performances almost everyday. The AKB48 Theater is in Akihabara, Tokyo, which is the city that AKB48 is named after.
The AKB48 Theater is situated in the Don Quixote in Akihabara, with the theater on its 8th floor.
The Theater famously contains 2 pillars just before the stage, which on them have pieces of pink tape. These stripes of paint represent the number of years that AKB48 has been performing at the theater.
The AKB48 Theater is small and can therefore only fit a small amount of people. In order to go to a Theater Performance, fans have to enter a lottery to get tickets.
The theater formerly held the theater performances of SDN48, until their disbandment.
Stages
Team A
Team K
#

Stage name

Date

Performances

1
PARTY ga Hajimaru yo
(PARTYが始まるよ)
2006.04.01 - 2006.07.05
2006.11.08 - 2006.12.14
61
9
2
Seishun Girls
(青春ガールズ)
2006.07.08 - 2006.11.06
77
3
Nounai Paradise
(脳内パラダイス)
2006.12.17 - 2007.06.22
64
4
Saishuu Bell ga Naru
(最終ベルが鳴る)
2008.05.31 - 2009.04.04
2014.02.20 - 2014.04.16
2015.11.30 - 2018.05.15
150
11
70
5
Saka Agari
(逆上がり)
2009.04.11 - 2010.02.21
2022.04.25 -
90
TBA
6
RESET
2010.03.12 - 2012.10.24
2014.05.07 - 2015.08.26
2018.07.06 - 2022.04.06
205
82
TBA
Waiting
Waiting Stage
2012.11.01 - 2014.02.12
95
Social Distance
K Shousuru Monotachi
(K承する者たち)
2020.08.26 – 2020.10.24
5
Team B
#

Stage name

Date

Performances

1
Seishun Girls
(青春ガールズ)
2007.04.08 - 2007.10.02
94
2
Aitakatta
(会いたかった)
2007.10.07 - 2008.02.21
73
3
Pajama Drive
(パジャマドライブ)
2008.03.01 - 2009.02.01
2014.04.28 - 2015.08.27
209
80
4
Idol no Yoake
(アイドルの夜明け)
2009.02.08 - 2010.04.16
2022.04.29 -
166
TBA
5
Theater no Megami
(シアターの女神)
2010.05.21 - 2012.10.22
2018.09.08 - 2022.03.19
280
TBA
Waiting
Waiting Stage
2012.11.03 - 2014.04.23
41
6
Tadaima Renaichuu
(ただいま 恋愛中)
2015.12.26 - 2018.05.28
70
Team 4
Team 8
Himawarigumi
Kenkyuusei
Unit Stages
#

Stage name

Date

Performances

1
IxR ni Aeru ☆
(xRに会える☆)
2020.07.25 –
TBA
Special Stages
Takahashi Minami Produced Stages
Social Distance Stages
#
Stage name
Date
Performances
1
Yuuwaku no Garter
(誘惑のガーター)
2009.08.01 - 2012.03.28
338