Give Me Power!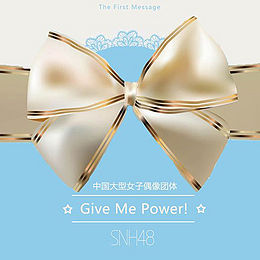 Give Me Power! is SNH48's debut performance. The stage is a revival from Team K 4th Stage, with the songs being sung on Mandarin. This performance was held on January 12, 2013 at Shanghai World Expo Exhibition Hall 4.
Performing Members
Setlist
M00. overture
M01. Mammoth (猛犸)
M02. Saishuu Bell ga Naru (最后的钟声响起)
M03. Boyfriend no Tsukurikata (男友制作秘笈)
M04. Erai Hito ni Naritakunai (不想多伟大)

MC1
M05. Return Match (再爱一回) (Chen GuanHui, Xu JiaQi, Xu ChenChen, Wu ZheHan / Li YuQi, Gu XiangJun)
M06. Hatsukoi Dorobou (初恋小偷) (Tang Min, Qiu XinYi, Jiang YuXi / Zhang YuGe, Xu ChenChen / Miyazawa Sae)
M07. Gomen ne Jewel (对不起我的宝贝) (Zhang YuGe, Zhao JiaMin, Mo Han, Yu HuiWen / Wu ZheHan, Ding ZiYan)
M08. Oshibe to Meshibe to Yoru no Chouchou (夜蝶) (Kong XiaoYin / Suzuki Mariya, Dong ZhiYi)
M09. 16nin Shimai no Uta (16人姐妹歌) (Chen Si, Dai Meng, Gu XiangJun / Qian BeiTing)
MC2
M10. Stand up (战役的崛起)
M11. Coolgirl (冷酷女孩)
M12. Kaiyuugyo no Capacity (爱的回游鱼)
M13. Ai ni Ikou (想去见你)

Encore:
M14. Shamu Neko (暹罗猫)
M15. Melos no Michi (梅洛斯之路)
M16. Sasae (支柱)

WEncore:
M17. RIVER (激流之战)
M18. Ponytail to Shushu (马尾与发圈)
M19. Heavy Rotation (无尽旋转)

Studio Recording
Artist

Album

Give me Power!

Release Date

2013.01.12

Label/Price

Label: KING RECORDS
(CD) / GIFT
Tracklist
CD 1
Mammoth
Saishuu Bell ga Naru
Boyfriend no Tsukurikata
Erai Hito ni Naritakunai
Return Match
Hatsukoi Dorobou
Gomen ne Jewel
Oshibe to Meshibe to Yoru no Chouchou
16nin Shimai no Uta
Stand up
Coolgirl
Kaiyuugyo no Capacity
Ai ni Ikou
Shamu Neko
Melos no Michi
Sasae
RIVER
Ponytail to Shushu
Heavy Rotation
Trivia
The studio recording CD was a gift for fans.
The stage was performed for the first time on January 12, 2013, but the first performance on the SNH48 Theater was only seven months later, on August 30.