Saishuu Bell ga Naru (JKT48 Song)
From Wiki48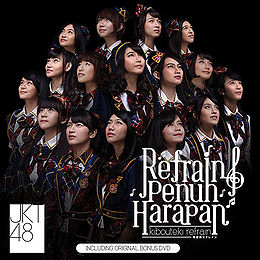 Saishuu Bell ga Naru' is a coupling song from JKT48's 10th single Kibouteki Refrain, by Team KIII. The song is also included in Team KIII 3rd Stage.
Information
Artist
Indonesian Title

Bel Terakhir Berbunyi
Japanese Title

Saishuu Bell ga Naru
English Title

The Last Bell Rings
Single
Stage
Lyrics can be found here.
Performing Members
Single Version
Team KIII: Alicia Chanzia, Chikano Rina, Cindy Yuvia, Della Delila, Dwi Putri Bonita, Jennifer Hanna, Lidya Maulida Djuhandar, Natalia, Priscillia Sari Dewi, Ratu Vienny Fitrilya, Riskha Fairunissa, Rona Anggreani, Saktia Oktapyani, Shinta Naomi, Sinka Juliani, Viviyona Apriani
Stage Version
Team KIII: Alicia Chanzia, Chikano Rina, Cindy Yuvia, Della Delila, Devi Kinal Putri, Dwi Putri Bonita, Jennifer Hanna, Lidya Maulida Djuhandar, Natalia, Priscillia Sari Dewi, Ratu Vienny Fitrilya, Riskha Fairunissa, Rona Anggreani, Saktia Oktapyani, Sinka Juliani, Viviyona Apriani
Original Version