Taiyou wa Miageru Hito wo Erabanai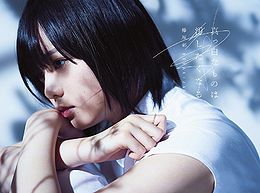 Taiyou wa Miageru Hito wo Erabanai is a song from Keyakizaka46's 1st album Masshirona Mono wa Yogoshitaku Naru, by Kanji Keyaki & Hiragana Keyakizaka Group. The song is also included in Keyakizaka46's best album Eien Yori Nagai Isshun 〜Ano Koro, Tashika ni Sonzaishita Watashitachi〜.
Information
Artist

Keyakizaka46 (欅坂46)
Composer/Arranger
Kanji Title

太陽は見上げる人を選ばない
Romaji Title

Taiyou wa miageru hito would erabanai
English Title

The sun doesn't choose who looks up
Album
Lyrics can be found here.
Performing Members
Kanji Keyakizaka46: Ishimori Nijika, Imaizumi Yui, Uemura Rina, Ozeki Rika, Oda Nana, Koike Minami, Kobayashi Yui, Sato Shiori, Saito Fuyuka, Shida Manaka, Sugai Yuuka, Suzumoto Miyu, Nagasawa Nanako, Habu Mizuho, Harada Aoi, Hirate Yurina, Moriya Akane, Yonetani Nanami, Watanabe Rika, Watanabe Risa