AKB0048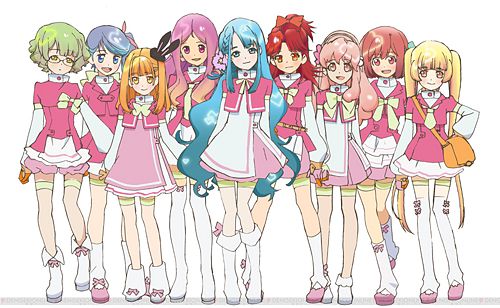 AKB0048 is the first anime based on AKB48. The 1st season was aired from April 29, 2012 to July 22, 2012 and the 2nd from January 5, 2013 to March 30, 2013. New sub-group NO NAME, formed of the seiyuus, sing the opening and ending songs.
Information
Season 1: 13
Season 2: 13
Broadcast network: TV Tokyo, Amazon Prime Japan
Air time: Saturday 0:20
Opening theme:
Season 1: Kibou ni Tsuite (NO NAME)
Season 2: Aruji Naki Sono Koe (NO NAME)
Season 1: Yume wa Nandomo Umarekawaru (NO NAME)
Season 2: Kono Namida wo Kimi ni Sasagu (NO NAME)
Staff
Creator: Akimoto Yasushi
General Director: Kawamura Shoji
Exective Producer: Otsuki Toshimichi
Director: Hiraike Yoshimasa
Screenplay: Okada Mari
Charakter design: Ebata Risa
Plot
At the start of the 21th century the earth is destructed by war over interplanetary travel tech. The humanity was forced to flee the planet and populate new planets. This marks the day 00 in year 000 of Star Calendar. The planets are controlled by an totalitarian government, the Deep Galactic Trade Organization (DGTO ), which forbid the use, contact or participation of entertainment activities like music. Short, things that can "diaturb the heart". The legendary idol group AKB48 changed their name to AKB0048 and is from now on made up of girls who have the same spirit and characte of the original members. Those girls will give away their past life and will suceed an original member. Since entertainment is forbidden, AKB0048 becomes an illigal idol group who cannot held their concerts official. In case of that the group changes their concept from "idol who you can meet" to "idol who come to see you" and the girls learn to fight and defend theirself.
The actual plot starts with an illigal concert of AKB48 on a planet called Lancastar. The young girls Motomiya Nagisa, Sono Chieri, Ichijo Yuka and Aida Orine visits it and decided to join one day AKB48.
Included Songs
Episode 1
Seiyuus
Successors
Kenkyuusei
75th Generation
76th Generation
77th Generation
Staff Members
External Links