HKT48 Tonkotsu Mahou Shoujo Gakuin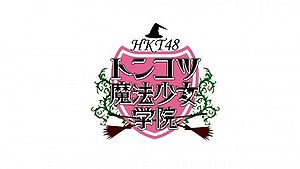 HKT48 Tonkotsu Mahou Shoujo Gakuin (original title: HKT48トンコツ魔法少女学院) was a variety TV show featuring members from HKT48, made in light of the Nogizaka46 x HKT48 Crown Program Battle as one of the two battling shows.
The show ran on NTV from July 2 to September 17, 2013, for a total of 12 episodes. The last episode was a 1 hour special which aired because HKT48 had won the program battle.
Outline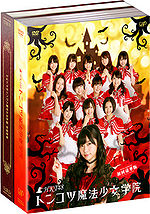 This show features HKT48 members in a fantasy school for magical girls where they receive a guest from the entertainment business each episode, who talks with them, answers questions or teaches them gags & other entertainment tips.
At the end of an episode the guest gives out a "Best Magical Girl badge", much like in HaKaTa Hyakkaten.
The show is hosted by Sashihara Rino.
Appearing members
Team H: Anai Chihiro, Ueki Nao, Ota Aika, Kodama Haruka, Shimono Yuki, Tanaka Natsumi, Nakanishi Chiyori, Matsuoka Natsumi, Miyawaki Sakura, Murashige Anna, Motomura Aoi, Moriyasu Madoka, Wakatabe Haruka
List of Episodes
Ep.
Air Date
Guest
Best Magical Girl
1
July 2, 2013
Dachou Club
Miyawaki Sakura
2
July 9, 2013
Korokke
Nakanishi Chiyori
3
July 16, 2013
Dewi Fujin
Tanaka Natsumi
4
July 23, 2013
Okubo Kayako
Akiyoshi Yuka
5
July 30, 2013
COWCOW
Okada Kanna
6
August 6, 2013
Tsuchida Teruyuki
Nakanishi Chiyori
7
August 13, 2013
Watanabe Naomi
Tashima Meru
8
August 20, 2013
SANDWICH MAN
Murashige Anna
9
August 27, 2013
Nozawa Hironobu
Ota Aika
10
September 3, 2013
Takeshi Sou
Miyawaki Sakura
11
September 10, 2013
Hakata Hanamaru Daikichi
Wakatabe Haruka
12
September 17, 2013
Program Battle winner: 1 Hour Haunted House SP
External Links