HKT48 vs. NGT48 Sashikita Gassen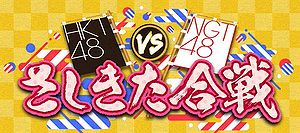 HKT48 vs. NGT48 Sashikita Gassen (original title: HKT48vsNGT48さしきた合戦) is a variety TV show featuring members from HKT48 and NGT48.
The show started run on January 4, 2016 and ended on March 29, 2016. It aired Mondays on NTV at 25:29 JST for half an hour.
Outline
This show features members of both groups participating head-to-head in contests, pranks, physical prowess challenges, or idol appeal battles to try and reel in a victory for their group. It is hosted by Sashihara Rino, with Kitahara Rie as co-host.
A special Hulu-online-service-only segment runs alongside the show, called "HKT48xNGT48 Tabe shoujo", where three members of either group go out to eat together in a local restaurant and talk. A small preview of this segment is included at the end of each regular episode.
List of Episodes
| Ep. | Air Date | Featured members | Main episode summary | Tabe shoujo members |
| --- | --- | --- | --- | --- |
| 1 | January 11, 2016 | HKT48: Tomonaga Mio, Matsuoka Natsumi, Tanaka Miku, Yabuki Nako, Tanaka Natsumi, Ota Aika, Moriyasu Madoka, Yamashita Emiri<br\>NGT48: Nishigata Marina, Nakai Rika, Oguma Tsugumi, Kato Minami, Ogino Yuka, Otaki Yuria, Yamada Noe, Sato Anju | The members meet fake staff in the green room before the 1st episode's recording. Every staff member has a certain aspect or situation happen to him, to see the idols' reactions. Afterwards the idols are told that the contest they thought would happen is a lie, and that they now have to try and remember the names of the staff they encountered before. | Ogino Yuka<br\>Nishigata Marina<br\>Seiji Reina |
| 2 | January 18, 2016 | HKT48: Tomonaga Mio, Matsuoka Natsumi, Tanaka Miku, Yabuki Nako, Tanaka Natsumi, Ota Aika, Murakawa Bibian, Yamashita Emiri<br\>NGT48: Nishigata Marina, Nakai Rika, Oguma Tsugumi, Kato Minami, Ogino Yuka, Otaki Yuria, Yamada Noe, Sato Anju | Three foreign guests are brought onto the show to judge the members' capabilities. Each guest is lied to that there is one fake idol in the round they will be watching, and that they need to try picking them out by shoving a paper plate full of whipped cream in the "fake" idol's face. The guests are: Tobi from Germany judging the members' dancing, Ricky from Jamaica judging their handshakes and Son from China judging their singing. | Tano Ayaka<br\>Nakai Rika<br\>Nishimura Nanako |
| 3 | January 25, 2016 | HKT48: Tomonaga Mio, Matsuoka Natsumi, Tanaka Miku, Yabuki Nako, Tanaka Natsumi, Ota Aika, Moriyasu Madoka, Yamashita Emiri<br\>NGT48: Nishigata Marina, Nakai Rika, Oguma Tsugumi, Kato Minami, Ogino Yuka, Otaki Yuria, Yamada Noe, Sato Anju | The members face off in a series of physical tests like carrying an other member of their team or four members squatting with a palanquin. | Tashima Meru<br\>Tanaka Miku<br\>Motomura Aoi |
External Links