IZONE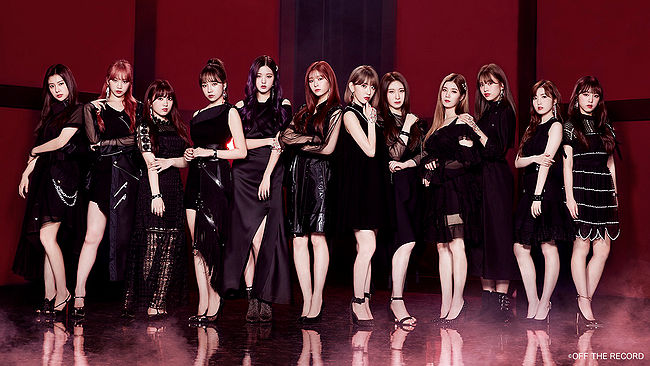 IZONE
Location
South Korea
Activity Period
2018.10.29 - 2021.04.29
Agency
Off The Record, Stone Music Entertainment, Vernalossom
Label
Off The Record, Stone Music Entertainment, Vernalossom, Swing
Debut Single
La Vie en Rose
Producer
Han Sung Soo (2018 - 2020)
Swing Entertainment (2020 - 2021)
Official Site
iz-one.co.kr (Korean)
izone-official.com (Japan)
IZONE (아이즈원 Aijeuwon) (アイズワン Aizuwan) (often stylised as IZ*ONE and pronounced as "eyes one") was a Korean-Japanese girl group formed in 2018 by CJ E&M through the Mnet television competition show Produce 48, the third season of Produce 101. The group consisted of twelve members: Jang Wonyoung, Miyawaki Sakura, Jo Yuri, Choi Yena, Ahn Yujin, Yabuki Nako, Kwon Eunbi, Kang Hyewon, Honda Hitomi, Kim Chaewon, Kim Minju and Lee Chaeyeon. They officially disbanded on April 29th, 2021.
History
Pre-debut: Produce 48
Prior to appearing on the show, several members had already been active in the entertainment industry. Honda Hitomi previously made her debut as a member of AKB48, while Miyawaki Sakura and Yabuki Nako debuted as members of AKB48's sister group HKT48. Kwon Eunbi previously debuted with Ye-A in 2014 under the stage name Ka-zoo but left the group later. Lee Chaeyeon previously competed in SBS's K-pop Star 3, and JYP Entertainment's own reality survival show Sixteen. Jo Yuri was a contestant in the past 2017 Mnet competition show Idol School, where she came in 15th place. Kim Minju had appeared as an actress in music videos and Korean dramas, notably the 2018 MBC television series Tempted.
IZ*ONE was formed through the television competition show Produce 48, which aired on Mnet from June 15 to August 31, 2018. Out of an initial 96 trainees representing various South Korean agencies and the Japanese idol AKB48, the final 12 were chosen by audience voting and announced via live television broadcast.
Similar to the previous group of I.O.I and Wanna One, the group's name, IZ*ONE was chosen through an online public voting during the shows period. 'IZ' is a numeronym for the number 12, a homage to the groups 12 members, while 'ONE' is the indication that the 12 girls is one as a group that was formed through Produce 48. The star (*) inbetween stands for the astrological signs of the zodiacal circle. They will debut on October 29, 2018.
On September 21, 2018, Off the Record Entertainment revealed that they would take over the management of IZONE from Stone Music Entertainment and Pledis Entertainment.
Leading up to their debut single, they also released four episodes of their own reality TV shows IZ*ONE CHU.
COLOR*IZ
On October 29, 2018, IZ*ONE released their first mini album COLOR*IZ. The lead single was La Vie en Rose and as a second promotional song also performed regularly, O' My! was chosen. The songs were performed on multiple television programms in Korea and La vie en Rose was also performed in Japan (although not in Japanese).
During the time of COLOR*IZ's promotion in Japan, the Japanese members Miyawaki Sakura, Yabuki Nako and Honda Hitomi also joined a performance of NO WAY MAN. Sakura and Nako also joined an HKT48 concert, however, they attended as IZ*ONE members and special guests and not as HKT48 members.
Suki to Iwasetai
On December 12, 2018, it was announced that IZ*ONE would have their Japan debut in February of 2019. On December 27th, the name of the single, "Suki to Iwasetai" was announced. Only four days later, on New Year's Eve 2018, a short version of the song was aired for the first time on CDTV'S New Year Special. On January 8, 2019, Neko ni Naritai was aired for the first time on AKB48 no All Night Nippon and confirmed to be a unit song. On January 10, the official covers for the single were released. On January 15, Gokigen Sayonara was played for the first time on the radio show Saku no Ki, also revealed to be a unit song. On January 20, they had their official Japan debut with a showcase which is announced to be aired on television on February 6, the official release date of Suki to Iwasetai. On January 24, the official music video for Suki to Iwasetai was aired on ZIP TV and subsequently posted to IZ*ONE's official YouTube channel. On January 28, the official YouTube channel posted a teaser for the yet unreleased music videos of Gokigen Sayonara and Neko ni Naritai, as well as audio clips of Kenchanayo and Dance wo Omoidasumade.
On January 8, the Korean television broadcaster CBS announced IZONE will receiver their own variety show, IZ*ONE City. It will air for two weeks starting from January 18th.
HEART*IZ
On April 1, 2019, IZ*ONE released their first mini album HEART*IZ. The lead single was Violeta. Leading up to their debut, their variety show IZ*ONE CHU aired its second season. Alongside the lead single, they also performed and promoted Up and Really Like You frequently, performing these songs on MCountdown, Inkigayo and other Korean music programs. On May 2nd, they held their first concert / fan meeting in Japan to promote the mini album. On May 17th, they performed at the KCON in Japan. They were furthermore announced to perform at the KCON extension in New York, USA in July.
Buenos Aires
On May 3rd 2019, the second day of MX Matsuri "IZ*ONE Japan 1st Fan Meeting", it was announced that their second Japanese single would be released, called Buenos Aires. The release date is June 26th. The title song was first played on NHK's "Shibuya Note" on June 3rd at midnight. While promoting their Japanese comeback "Buenos Aires", they also held their first Asia tour, "Eyes On Me", performing in Seoul, Taipei, Bangkok and Hong Kong. On the first date of the tour, further tour dates for various cities in Japan were announced to take place in the summer, without revealing the specific dates yet. Furthermore, on May 2nd, their first official mobile game Iz*one rememberZ was announced. Pre-registration was opened on June 20th. The game eventually became available to download on July 31st on iOS and August 1st on Android; due to the delay on Android devices, the in-game birthday event held for Kim Chaewon was extended a day beyond her birthday.
Vampire
On August 10th 2019, it was announced that they would release their third Japanese single, "Vampire", on September 25th. The B-Side Love Bubble was first aired on radio on September 4th and the main song, Vampire was first aired on radio on September 10th. The B-side Shigaisen Nanka Buttobase was first aired on radio on September 11th. They first performed the song live on Music Station on September 13th. On October 21st, a trailer for their first cinema movie, "Eyes On Me", was released, with a proper release date not yet mentioned but announced to be in November.
Controversy and BLOOM*IZ
On October 30th 2019, it was announced that the group would release their first full album, called BLOOM*IZ, on November 11th. On the same day, they published a concept trailer on their official YouTube channel, titled "When IZ your BLOOMing moment?" Over the next three days, the individual photos as well as group shots of the three different version, 'I WAS,' 'I AM,' and 'I WILL' were released over the group's twitter account. On November 3rd, a highlight medley of all the songs on the album was published on YouTube, revealing that multiple members had co-written or arranged some of the songs. It also included the songs AYAYAYA and SO CURIOUS, which had been performed at the Eyes On Me Asia tour. On November 6th, it was announced that the release of the album would be indefinitely postponed, due to the scandal involving Mnet's Produce 48 and Produce X 101 series, with police report announced to be made public on November 11th, the same day as the original release date of the album. The Japanese movie, "Eyes On Me," was also postponed for the time being. On November 15th, the movie "Eyes On Me" was supposed to release but was postponed. On November 26th, IZ*ONE's Private Mail service was suspended. Furthermore, Sakura's radio show "Saku no Ki" and Hitomi's radio show "World Get You" announced a further hiatus. On December 4th, MNET (the company in charge of the Produce series) released a statement that they were looking to compensate IZ*ONE for lost time, as well as the group X1 that was formed through Produce X 101 in 2019 and was similarly on a break.
In January, IZ*ONE and X1 were nominated for Album Division (HEART*IZ) and Rookie Artist at the Golden Disc Awards 2020, but eventually it was announced that votes for neither group would be considered due to the ongoing controversy. They were also both nominated at the 29th Seoul Music Awards, but with the news of X1's disbandment, the group was disqualified. People could still vote for IZ*ONE, who earned the highest number of votes in the category "Main" (2M). The winner was determined by fan votes (30%), album sales (30%) and judges' decision (40%). Despite the high number of votes, the sales and judges' decision did not guarantee a win and the winner was announced to be boy group EXO. Despite the loss, this was still a small victory for the group, as it showed that the public was still interested in the groups' comeback. It was also announced that the movie "Eyes On Me" would no longer be released.
On February 1st, it was announced that BLOOM*IZ would be released on February 17th via the groups' official twitter account. On February 12th, the first official teaser for the music video of the lead single FIESTA. On February 14th, the group uploaded their first V LIVE stream and restarted their private mail service again. On February 17th, the music video was released at 6pm, followed by a Showcase on the broadcasting service Mnet at 8pm, where they performed SPACESHIP, Hey. Bae. Like It., AYAYAYA, SO CURIOUS and finally FIESTA. On the first day of sales, the group sold over 175k copies of BLOOM*IZ, already making it the highest selling album of a girl group within its release week (the record was previously held by TWICE's FANCY YOU with 154k).
Oneiric Diary
On May 11th 2020, the Korean broadcast channel MNET released its schedule for June. It showed new episodes, season 3, for IZ*ONE CHU, to be broadcast from the 3rd to the 10th of June. In the past, IZ*ONE CHU always led up to a comeback, therefore this counted as the first hint at an upcoming summer comeback. At the same time, a second (web) show started being released on YouTube called EAT-TING TRIP, also in promotion for a comeback. On May 19th, it was announced that a new mini-album would be released on June 15th, but the date and title were yet to be announced. Starting on June 3rd, the group's official twitter released group and solo teaser pictures, as well as videos. IZ*ONE CHU and EAT-ING TRIP also started airing that day. On June 7th, the setlist was revealed. Leading up to June 15th, the group revealed several picture and video teasers. After release, the album broke the first week sales for a girl group, with the previous record held by BLOOM*IZ. In the following weeks of promotion, the title song Secret Story of the Swan won 7 awards at the Korean various music shows they attended, such as M Countdown, Music Bank, Music Core, THE SHOW, Inkigayo, etc. On July 6th, it was announced that a special digital showcase would be held on Mnet Smart, a Japanese viewing app, with digital tickets being sold for ¥2,000 (plus transaction fees and tax). The event was held on July 11th.
On August 6th, they announced a concert to be called Oneiric Theater. Due to the ongoing COVID-19 pandemic, the concert would be held exclusively online with tickets purchasable on the Korean interpark website. Tickets could be purchased in combination with goods, such as the official IZ*ONE lightstick, photo cards, keyrings, t-shirts and other memorabilia. The concert took place place on September 13th and featured mainly songs from Oneiric Diary and BLOOM*IZ, but also four unit cover versions.
Twelve
On September 2nd 2020, the official IZ*ONE twitter account announced the group's first Japanese album. It would be called Twelve and would be released on October 21st. From September 14th to 16th, each member's solo photo for the album was released via twitter. On September 17th, all the different album covers were unveiled in the same manner. On September 30th, a digest trailer, containing a snippet of each song to be on the album, was released via YouTube. On October 7th, the music video for the lead single Beware was released. On October 21st, the album was released digitally and physically worldwide. In the week of its release, IZ*ONE appeared on various Japanese TV programmes, namely Mezamashi TV (20th), ZIP! (21st), Buzz Rhythm (23rd), CDTV (24th). The album sold over 135k copies, breaking the record for the highest first-day sales of a K-Pop girlgroup in Japan.
One-Reeler / Act IV
On November 5th, it was announced that IZ*ONE would release their first Japanese original group photobook, titled SURPR*IZ. On November 10th, it was announced that IZ*ONE would be having another Korean comeback in December. A few days later, the comeback date was confirmed for December 7th. They were also announced to perform at the 2020 FNS (Fuji Network System) Music Festival on December 2nd, were they performed Beware from their latest album. On November 22nd, the title of the album was finally announced to be called One-Reeler / Act IV. Starting on November 24th, the group's official twitter account started posting teaser images in three batches called Scene #1 "Color of Youth," Scene #2 "Becoming One" and Scene #3 "Stay Bold." On December 1st, a teaser for the album's main song, Panorama, was published on YouTube. The day after, a medley of all the songs was also released. On December 5th, they appeared at the Melon Music Awards and performed FIESTA and Secret Story of the Swan. On December 6th, they performed Panorama at the Mnet ASIAN MUSIC AWARDS (MAMA), which was the first time the public heard the full song. The group also won the award for Favorite Female Group. On December 12th, they performed Secret Story of the Swan and Panorama at the Fact Music Awards 2020 and also received the Year's Artist award.
D-D-Dance
On January 13th, 2021, EAT-TING TRIP resumed again and hinted at the possibility of a comeback. On January 17th, the new app UNIVERSE released a release schedule for IZONE, announcing a new song called "D-D-Dance" to be released via their app. From January 18th to 24th, the members' individual concept photos were released. On the 21st, the first teaser for the music video was released on YouTube. On the 24th, the second teaser was released in the same manner. On the 26th, it was possible to listen to just the audio of the new song on Korean streaming platforms, such as MelOn. On January 28th, the app was finally released, and with it the full music video of D-D-Dance. By purchasing a membership within the app, it was possible to access more individual concept photos for each member. On February 14th, UNIVERSE held a concert for all the groups that are are part of the app, including IZONE. IZONE was the first group on stage and performed Secret Story of the Swan, FIESTA, Panorama, With*One and D-D-Dance.
One, The Story and Disbandment
On February 10th, the group announced an online concert called One, The Story to take place on March 13th and 14th. On February 11th, the contents of the SURPR*IZ photobox were specified with links to websites where you could buy it. On March 10th, the photobox was released. On the same day, it was officially announced that IZ*ONE would disband in April of the same year and that One, The Story would be their final concert. There would be no further music release. On the day of the concert, they performed two new songs, Lesson (in Japanese) and Parallel Universe (in Korean). On March 28th, it was announced that IZ*ONE's Daum Fancafé, Universe section and Private Mail service would go out of service on April 28th at 11:59pm KST. Fancafé and Universe would be turned into a read-only mode. Private Mail contents could be viewed until May 31st, after which the contents would become inaccessible. On April 29, Miyawaki Sakura, Yabuki Nako and Honda Hitomi returned to Japan, and on April 30, their profiles were listed again on the AKB48 and HKT48 websites.
Careers after IZ*ONE
After disbandment, all members continued being active in the entertainment industry:
Discography
Albums

#
Cover
Title
Release date
Korea
01
BLOOM*IZ
2020.02.17
Japan
01
Twelve
2020.10.21

Digital Singles
Other Songs
Concerts
Games
Media
Survival Shows
Variety
Movies
Web Shows
Endorsements
Even before debuting, the group has endorsed and collaborated with multiple brands including Overhit, Salewa, and Skoolooks.
In June, 2019, they had an endorsement with Gmarket.
In July 2020, they had an endorsement with DICON/Pocari Sweat.
In February 2021, Jang Wonyoung, Kim Minju, Kwon Eunbi, Jo Yuri and Miyawaki Sakura had an endorsement with Pepsi in collaboration with Wonyoung and Ahn Yujin's agency STARSHIP Entertainment.
Members
| Group | Picture | Romaji | Nickname | Birthdate | Birthplace | Blood Type | Age | Height | Agency | Position |
| --- | --- | --- | --- | --- | --- | --- | --- | --- | --- | --- |
| IZONE | | Ahn Yujin | ** | September 1, 2003 | Daejeon, South Korea | A | 20 | 168cm | Starship Entertainment | Lead Vocalist, lead dancer |
| IZONE | | Choi Yena | Happy Virus | September 29, 1999 | Seoul, South Korea | A | 24 | 163cm | YUEHUA Entertainment | Main rapper, lead vocalist, lead dancer |
| 8 / B / IZONE | | Honda Hitomi | Hiichan (ひぃちゃん), Ppangtomi (bread + (Hi)tomi) | October 6, 2001 | Tochigi, Japan | A | 21 | 158cm | AKS | Lead dancer, vocalist, rapper |
| IZONE | | Jang Wonyoung | Giant Baby, Giant Maknae | August 31, 2004 | Seoul, South Korea | O | 19 | 168cm | Starship Entertainment | Center, lead vocalist, dancer, rapper |
| IZONE | | Jo Yuri | Yul, daengdaeng (puppy) | October 22, 2001 | Busan, South Korea | AB | 21 | 160cm | Stone Music Entertainment | Main vocalist |
| IZONE | | Kang Hyewon | Innocent Rapper, Kwangbae, Kangchan/Kanchan (カンちゃん) | July 5, 1999 | Kyungnam, South Korea | B | 24 | 163cm | 8D Creative | Lead rapper, vocalist, visual |
| IZONE | | Kim Chaewon | Angel Chaewon, Fairy Chaewon, ssam (raddish) | August 1, 2000 | Seoul, South Korea | B | 23 | 160cm | Woolim Entertainment | Lead Vocalist, lead dancer |
| IZONE | | Kim Minju | Minmin, Pepe | February 5, 2001 | Seoul, South Korea | AB | 22 | 165cm | Urban Works | Main visual, lead rapper, vocalist |
| IZONE | | Kwon Eunbi (Leader) | Queen, Eunbit (rabbit), Leader Kwon | September 27, 1995 | Seoul, South Korea | A | 28 | 160cm | Woolim Entertainment | Leader, main dancer, lead vocalist |
| IZONE | | Lee Chaeyeon | Chaen, father | January 11, 2000 | Gyeonggi, South Korea | A | 23 | 164cm | WM Entertainment | Main dancer, lead vocalist, lead rapper |
| KIV / IZONE | | Miyawaki Sakura | Sakura (さくら), Kkura | March 19, 1998 | Kagoshima, Japan | A | 25 | 164cm | AKS | Vocalist, visual |
| H / IZONE | | Yabuki Nako | Nako (なこ) | June 18, 2001 | Tokyo, Japan | ** | 22 | 149cm | AKS | Vocalist |