JKT48 Festival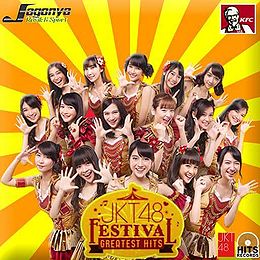 CD Information
Artist

Studio Album

JKT48 Festival

Release Date

2017.02.22

Label/Catalog Number/Price

Label: HITS Records
- (Regular Edition, CD) / Rp 35.000
Regular Edition Details
CD
(SNG = Single | ABM = Album | C/W = Coupling Song from Single | NEW = New Cover | AUDS yy = Songs that weren't Included in Discography yet but have been Covered before (Another Songs))
Included Members
JKT48 (64 Members) (Melody Nurramdhani Laksani Center)
Team J : Della Delila, Dena Siti Rohyati, Devi Kinal Putri, Dwi Putri Bonita, Feni Fitriyanti, Gabriela Margareth Warouw, Haruka Nakagawa, Jessica Vania, Jessica Veranda, Michelle Christo Kusnadi, Nabilah Ratna Ayu Azalia, Nadhifa Salsabila, Priscillia Sari Dewi, Riskha Fairunissa, Saktia Oktapyani, Shania Junianatha, Sinka Juliani, Syahfira Angela Nurhaliza, Thalia Ivanka Elizabeth, Viviyona Apriani, Yansen Indiani
Team KIII : Alicia Chanzia, Amanda Dwi Arista, Aninditha Rahma Cahyadi, Ayana Shahab, Ayu Safira Oktaviani, Beby Chaesara Anadila, Cindy Yuvia, Fakhriyani Shafariyanti, Fransisca Saraswati Puspa Dewi, Frieska Anastasia Laksani, Jennifer Rachel Natasya, Lidya Maulida Djuhandar, Maria Genoveva Natalia Desy Purnamasari Gunawan, Nadila Cindi Wantari, Natalia, Ni Made Ayu Vania Aurellia, Ratu Vienny Fitrilya, Rina Chikano, Rona Anggreani, Shani Indira Natio, Shania Gracia, Shinta Naomi, Sonia Natalia, Stephanie Pricilla Indarto Putri
Team T : Adhisty Zara, Adriani Elisabeth, Christi, Cindy Hapsari Maharani Pujiantoro Putri, Elizabeth Gloria Setiawan, Eve Antoinette Ichwan, Fidly Immanda Azzahra, Jinan Safa Safira, Made Devi Ranita Ningtara, Melati Putri Rahel Sesilia, Melody Nurramdhani Laksani, Nurhayati, Puti Nadhira Azalia, Regina Angelina, Ruth Damayanti Sitanggang, Sri Lintang, Tan Zhi Hui Celine, Violeta Burhan, Zahra Yuriva Dermawan
Team J (22 Members) (Melody Nurramdhani Laksani & Nabilah Ratna Ayu Azalia Centers)
Team J : Della Delila, Dena Siti Rohyati, Devi Kinal Putri, Dwi Putri Bonita, Feni Fitriyanti, Gabriela Margareth Warouw, Jessica Vania, Jessica Veranda, Melody Nurramdhani Laksani, Michelle Christo Kusnadi, Nabilah Ratna Ayu Azalia, Nadhifa Salsabila, Priscillia Sari Dewi, Riskha Fairunissa, Saktia Oktapyani, Shania Junianatha, Sinka Juliani, Syahfira Angela Nurhaliza, Thalia Ivanka Elizabeth, Viviyona Apriani, Yansen Indiani
Team KIII (24 Members) (Cindy Yuvia Center)
Team KIII : Alicia Chanzia, Amanda Dwi Arista, Aninditha Rahma Cahyadi, Ayana Shahab, Ayu Safira Oktaviani, Beby Chaesara Anadila, Cindy Yuvia, Fakhriyani Shafariyanti, Fransisca Saraswati Puspa Dewi, Frieska Anastasia Laksani, Jennifer Rachel Natasya, Lidya Maulida Djuhandar, Maria Genoveva Natalia Desy Purnamasari Gunawan, Nadila Cindi Wantari, Natalia, Ni Made Ayu Vania Aurellia, Ratu Vienny Fitrilya, Rina Chikano, Rona Anggreani, Shani Indira Natio, Shania Gracia, Shinta Naomi, Sonia Natalia, Stephanie Pricilla Indarto Putri
Team T (19 Members) (Adhisty Zara & Melody Nurramdhani Laksani Centers)
Team T : Adhisty Zara, Adriani Elisabeth, Christi, Cindy Hapsari Maharani Pujiantoro Putri, Elizabeth Gloria Setiawan, Eve Antoinette Ichwan, Fidly Immanda Azzahra, Jinan Safa Safira, Made Devi Ranita Ningtara, Melati Putri Rahel Sesilia, Melody Nurramdhani Laksani, Nurhayati, Puti Nadhira Azalia, Regina Angelina, Ruth Damayanti Sitanggang, Sri Lintang, Tan Zhi Hui Celine, Violeta Burhan, Zahra Yuriva Dermawan
JKT48 (64 Members) (Melody Nurramdhani Laksani Center)
Team J : Della Delila, Dena Siti Rohyati, Devi Kinal Putri, Dwi Putri Bonita, Feni Fitriyanti, Gabriela Margareth Warouw, Haruka Nakagawa, Jessica Vania, Jessica Veranda, Michelle Christo Kusnadi, Nabilah Ratna Ayu Azalia, Nadhifa Salsabila, Priscillia Sari Dewi, Riskha Fairunissa, Saktia Oktapyani, Shania Junianatha, Sinka Juliani, Syahfira Angela Nurhaliza, Thalia Ivanka Elizabeth, Viviyona Apriani, Yansen Indiani
Team KIII : Alicia Chanzia, Amanda Dwi Arista, Aninditha Rahma Cahyadi, Ayana Shahab, Ayu Safira Oktaviani, Beby Chaesara Anadila, Cindy Yuvia, Fakhriyani Shafariyanti, Fransisca Saraswati Puspa Dewi, Frieska Anastasia Laksani, Jennifer Rachel Natasya, Lidya Maulida Djuhandar, Maria Genoveva Natalia Desy Purnamasari Gunawan, Nadila Cindi Wantari, Natalia, Ni Made Ayu Vania Aurellia, Ratu Vienny Fitrilya, Rina Chikano, Rona Anggreani, Shani Indira Natio, Shania Gracia, Shinta Naomi, Sonia Natalia, Stephanie Pricilla Indarto Putri
Team T : Adhisty Zara, Adriani Elisabeth, Christi, Cindy Hapsari Maharani Pujiantoro Putri, Elizabeth Gloria Setiawan, Eve Antoinette Ichwan, Fidly Immanda Azzahra, Jinan Safa Safira, Made Devi Ranita Ningtara, Melati Putri Rahel Sesilia, Melody Nurramdhani Laksani, Nurhayati, Puti Nadhira Azalia, Regina Angelina, Ruth Damayanti Sitanggang, Sri Lintang, Tan Zhi Hui Celine, Violeta Burhan, Zahra Yuriva Dermawan
General Information
JKT48 Festival is the 1st best album released by JKT48. Voting ballots will be included in this album for the JKT48 17th Single Senbatsu Sousenkyo.
Trivia
The team songs were debuted on JKT48 Ada banyak rasa, Pilih suka rasa apa? Concert and have major modification of the line up.

Melon Juice is the 1st undiscographed song (outside stage song) with the members singing it all has changed totally after the song is discographed. Notes that this song was brought for the first time by Team T on 2015, before the minor shuffle 2015 was applied.