JKT48 Theater
JKT48 Theater
Teater JKT48 or Jakarta JKT48 Theater

Location
South Jakarta, Jakarta, Indonesia
fX Sudirman 4th Floor, Jl. Jenderal Sudirman Pintu Satu Senayan, Jakarta Selatan, DKI Jakarta, Indonesia
Completion Date
August 2012
Unveiling Day
September 8, 2012
Capacity
350
Theater Manager
Melody Nurramdhani Laksani
Owner
JKT48 Project
Web
jkt48.com/theater/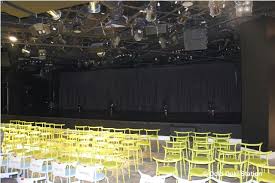 The JKT48 Theater (JKT48劇場), is where JKT48 hold their Theater Performances almost everyday.
The JKT48 Theater is in fX Sudirman, a shopping mall in Jakarta.
This theater is the first international sister group theater created, and has a capacity of 350 people. As of 2018 renovation, the theater is composed of a front stage with two side runways, and a three LED screen in the back of the stage.
The theater General Manager is Melody Nurramdhani Laksani.
Current Stages
Team J
5th Stage 「アイドルの夜明け」 (JKT48 Team J 5th Stage "Idol no Yoake" / "Fajar sang Idola") (2019.03.03 - )
Team KIII
4th Stage 「逆上がり」 (JKT48 Team KIII 4th Stage "Saka Agari" / "Back Hip Circle") (2018.03.04 - )
Academy Class A
Pajama Drive 「パジャマドライブ」 (JKT48 Trainee "Pajama Drive") (2012.05.17 - 2012.12.13, 2013.01.11 - 2013.05.12, 2014.05.24 - 2015.01.17, 2016.08.07 - 2016.11.19 and 2019.03.23 - )
Past Stages
Team J
Team KIII
Team T
Team Bunga Matahari
1st Stage 「Bunga Matahari」 (JKT48 Team Bunga Matahari 1st Stage " ひまわり " / "Sunflower") (2016.04.08 - 2016.10.21 )
Kenkyuusei
Pajama Drive 「パジャマドライブ」 (JKT48 Trainee "Pajama Drive") (2012.05.17 - 2012.12.13, 2013.01.11 - 2013.05.12, 2014.05.24 - 2015.01.17 and 2016.08.07 - 2016.11.19)
Boku no Taiyou 「僕の太陽」 (JKT48 Kenkyuusei "Boku no Taiyou" / "Matahari Milikku") (2013.05.17 - 2013.06.25)