Joana Elline Rea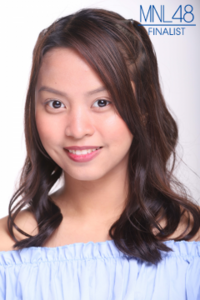 Joana Elline Rea was a MNL48 1st Generation Candidate.
Profile
Name: Joana Elline Rea (ジョアナ・エリン・レア)
Nickname: Yoana (ヨアナ)
Age: 24 Years Old
Birthdate: November 30, 1998
Birthplace:

Pasig City, Metro Manila, Philippines
Height: 150cm

Trivia
Special skills: Acting and can play lots of instruments like piano, guitar, drums, and ukulele.
Favorite colors: Blue and purple
Favorite book: Managing people - a General business book
Wants to become a businesswoman.
Describes herself as strong, outspoken, and talented.
Media Appearances
TV Shows
Gallery