Maria Kimberly Mendoza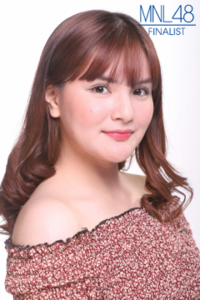 Maria Kimberly Mendoza was a MNL48 1st Generation Candidate.
Profile
Name: Maria Kimberly Mendoza (マリア・キンバリー・メンドーサ)
Nickname: Mara (マラ)
Age: 24 Years Old
Birthdate: November 16, 1998
Birthplace:

Quezon City, Metro Manila, Philippines
Height: 152cm

Trivia
Special skill: Photography
Favorite books: Paulo Coehlo and Bo Sanchez inspirational books
Favorite colors: Light pink and white
Favorite AKB48 song: Heavy Rotation
Admires Yoshikawa Nanase.
Describes herself as simple, determined, and driven.
She is a graduate of Bachelor of Arts in Communication.
Media Appearances
TV Shows
Gallery