Team NII 3rd Stage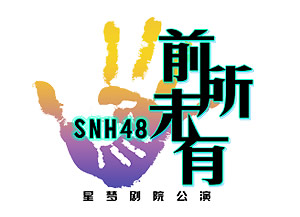 Mokugekisha (前所未有) is SNH48 Team NII's 3rd Stage (NII3). The stage is a revival from Team A 6th Stage, with the songs being sung in Mandarin.
General Information
Stage Name

Mokugekisha (前所未有 Qiánsuǒwèiyǒu)

Team

2014.10.11 - 2015.04.18
Setlist
M00. Zenza Girls / Miniskirt no Yosei (格子裙妖精)
M00. overture (SNH48 ver.)
M01. Zenjin Mitou (前所未有)
M02. Ibitsu na Shinju (微瑕珍珠)
M03. Akogare no Popstar (憧憬的POP STAR)

MC1
M04. Ude wo Kunde (握你的手) (Meng Yue, Yi JiaAi, Li YiTong)

M05. Enjou Rousen (燃烧的道路) (Feng XinDuo, Ju JingYi)

M06. Itoshisa no Accel (爱的加速器) (Zhao Yue)

M07. Hoshi no Mukougawa (星的彼岸) (Zeng YanFen, Wan LiNa, Xu YanYu, Lu Ting)

M08. Saboten to Gold Rush (仙人掌与淘金热) (Tang AnQi, Dong YanYun, Gong ShiQi, Huang TingTing, He XiaoYu, Lin SiYi)

MC2
M09. Utsukushiki Mono (最美之人)
M10. Give Me Love
M11. Matenrou no Kyori (摩天楼的距离)

MC3
M12. Inochi no Imi (生命的意义)

Encore:
M13. I'm crying
M14. Zutto Zutto (永远 永远)

MC4
M15. We are the SNH

Participating Members
Shonichi
Dong YanYun, Feng XinDuo , Gong ShiQi, He XiaoYu, Huang TingTing, Ju JingYi, Meng Yue, Li YiTong, Lin SiYi, Lu Ting, Tang AnQi, Wan LiNa, Xu YanYu, Yi JiaAi, Zeng YanFen, Zhao Yue
Trivia
The song Mokugekisha was cut from the setlist due to possible cultural sensitivities with regards to the lyrics.
Promotional MV