Zenza Girls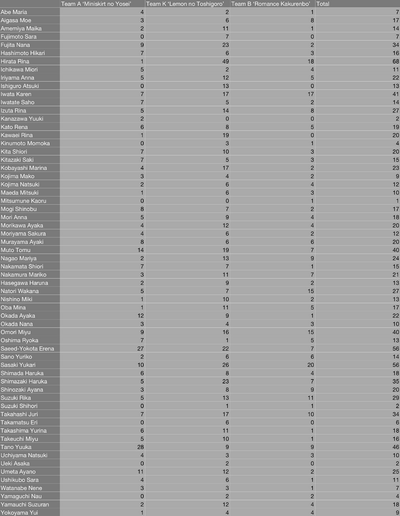 Zenza Girls (Japanese: 前座ガールズ / Mandarin:前座女孩) were introduced after the 2009 Team Shuffle, once the new teams had gotten their own stages. Zenza Girls are Kenkyuusei, who perform a song at the beginning of stages. Zenza girls have performed for some stages (you can read the this section to know what stage which Zenza Girl(s) has/have/had performed). Zenza Girls change with every stage performance. Three current/common/default Zenza Girls songs were included in AKB48's album, 1830m.
Stages with Zenza Girls and Zenza Girls Song
Common Zenza Girls Songs (Default)
Usually can be found in RESET stage, 4 members.
Usually can be found in Theater no Megami stage, 1 member.
Usually can be found in Mokugekisha stage, 3 members.

Uncommon Zenza Girls Songs

Notes

For rare cases, few stages have no any Zenza Girls or have Zenza Girls on the stage but changed into another song.

Lemon no Toshigoro on KII5 was changed into Matsumurabu and there was a new rule for the Zenza Girl on that stage.
There is no any default Zenza Girls song for Xīn de Lǚchéng and Zhuānshǔ Pàiduì stage as the Zenza Girls for those stages were added after the stages were on going, some revivals from those stage had no any Zenza Girls song addition.
These stages had no Zenza Girls song while the real stage has it: