Tentoumu Chu!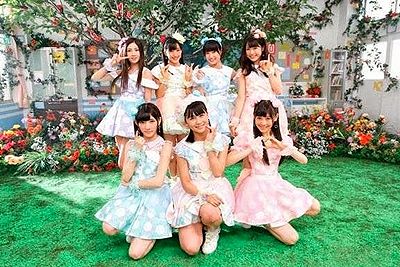 Tentoumu Chu! (てんとうむChu!) is a unit composed of AKB48, SKE48, NMB48 and HKT48 members. Their first original song was Kimi Dake ni Chu! Chu! Chu!. The song was later included on AKB48 33th single, Heart Ereki.
The unit was announced at the Sapporo Dome concert of the AKB48 5 Big Dome Concert Tour. At the time of the announcement, all seven members were Kenkyuusei. It was speculated that the group was formed in order to make some of the most popular Kennkyuusei in the 48 groups more visible to the public eye.
However, soon after the group's formation, Kojima Mako, Nishino Miki and Okada Nana were promoted to Team 4. Then, Tashima Meru and Tomonaga Mio were promoted during the HKT48 Team Shuffle. Finally, at the AKB48 Group Daisokaku Matsuri, the remaining two members of Tentoumu Chu! were promoted to teams in their respective groups. Regardless of the fact that none of the members are kenkyuusei any longer, the group remains active.
The girls of Tentoumu Chu! starred in a drama called "Joshiko Keisatsu" which began on October 27th, 2013. It aired from 0:55 to 1:10 a.m. on Sunday Nights on Fuji TV. The group also filmed a short documentary episode when they visited Hawaii.
Members
Songs