Where We Belong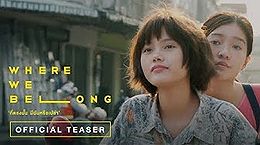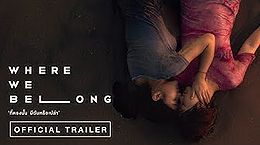 Where We Belong is a drama/romance movie by Kongdej Jaturanrasmee, Jirat Bawornwatana and Soros Sukhum. It features Jennis and Music in the main roles. It was released on June 20th, 2019.
Summary
Sue, the crazy girl that feels as if she was born in the wrong place. Sue, the crazy girl who hates her hometown and the Pork Liang Noodle shop. Sue, the crazy girl that loves her best friend Belle. But the craziest thing she's ever done is that she is about to leave everything behind, including Belle.
If you were Belle, would you be foolish and let go, or would you be crazy enough to hold on?
Cast & Crew
Behind the Scenes
Kongdej Jaturanrasamee (Director)
Kongdej Jaturanrasamee (Screenplay)
Jirat Bawornwatana (Producer)
Soros Sukhum (Producer)
Information
The title song, "Let U Go", was included in BNK48's 6th single Beginner. It was composed by Kongjed Jaturanrasamee, the director and writer of the movie.
The movie was nominated for multiple awards at the 16th Komchadluek Awards.
Trailer