Yakusoku no Tamago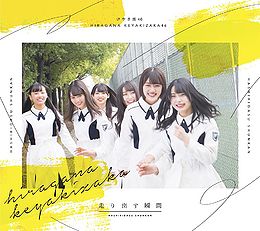 Yakusoku no Tamago is a song from Hiragana Keyakizaka46's 1st album Hashiridasu Shunkan, by Hiragana Keyakizaka46. The song is also included in Hinatazaka46's 1st album Hinatazaka.
Information
Artist

Hiragana Keyakizaka46 (ひらがなけやき坂46)
Hinatazaka46 (日向坂46)
Composer/Arranger
Kanji Title

約束の卵
Romaji Title

Yakusoku no Tamago
English Title

Promised egg
Lyrics can be found here.
Performing Members
Hiragana Keyakizaka46 Ver.
Hiragana Keyakizaka46 1st Generation: Iguchi Mao, Ushio Sarina, Kakizaki Memi, Kageyama Yuuka, Kato Shiho, Saito Kyoko, Sasaki Kumi, Sasaki Mirei, Takase Mana, Takamoto Ayaka, Higashimura Mei
Hinatazaka46 Ver.
1st Generation: Ushio Sarina, Kageyama Yuuka, Kato Shiho, Saito Kyoko, Sasaki Kumi, Sasaki Mirei, Takase Mana, Takamoto Ayaka, Higashimura Mei
2nd Generation: Kanemura Miku, Kawata Hina, Kosaka Nao, Tomita Suzuka, Nibu Akari, Hamagishi Hiyori, Matsuda Konoka, Miyata Manamo, Watanabe Miho