JKT48 Trainee / Academy Class A Pajama Drive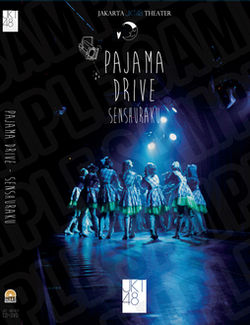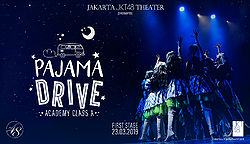 Pajama Drive (パジャマドライブ) is JKT48 Trainee 1st Stage for almost all of JKT48 members. The stage is a revival from Team B 3rd Stage, with the songs being sung on Indonesian.
General Information
Stage Name

Pajama Drive (パジャマドライブ)

Team

2012.05.17 - 2012.12.13 (Trainee 1st Gen.)
2013.01.11 - 2013.05.12 (Trainee 2nd Gen.)
2014.05.24 - 2015.01.17 (Trainee 3rd Gen.)
2016.08.07 - 2016.11.19 (Trainee 4th and Candidate Trainee 5th Gen.)
2019.03.23 - (JKT48 Academy Class A 3rd, 5th, 6th, 7th, and 8th Gen.)
Setlist
M00. overture (JKT48 ver.)
M01. Shonichi (初日 / Hari Pertama)
M02. Hissatsu Teleport (必殺テレポート / Jurus Rahasia Teleport)
M03. Gokigen Naname na Mermaid (ご機嫌ななめなマーメード / Putri Duyung yang Sedang Sedih)
M04. Futari Nori no Jitensha (2人乗りの自転車 / Bersepeda Berdua)

MC1
M05. Tenshi no Shippo (天使のしっぽ / Ekor Malaikat)
M06. Pajama Drive (パジャマドライブ)
M07. Junjou Shugi (純情主義 / Prinsip Kesucian Cinta)
M08. Temodemo no Namida (てもでもの涙 / Air Mata Perasaan yang Tak Tersampaikan)
M09. Kagami no Naka no Jean Da Arc (鏡の中のジャンヌ・ダルク / Joan of Arc di Dalam Cermin)
MC2
M10. Two years later
M11. Inochi no Tsukaimichi (命の使い道 / Cara Menggunakan Hidup)
M12. Kiss Shite Son Shichatta (キスして損しちゃった / Rugi Sudah Dicium)

MC3
M13. Boku no Sakura (ぼくの桜 / Bunga Sakuraku)

Encore:
M14. Wasshoi J! (ワッショイJ!) (Before 201?) / Wasshoi JKT! (ワッショイJKT!) (After 201?)
M15. Suifu wa Arashi ni Yume wo Miru (水夫は嵐に夢を見る / Pelaut yang Melihat Mimpi di Tengah Badai)

MC4
M16. Shiroi Shirts (白いシャツ / Baju Putih)

Units
List of unit members.
Trainee 1st Generation
List of 1st Generation unit members.
Shonichi
Senshuuraku
Announcement Of Team J Member after the last song/the show.
Unders / Swap
Trainee 2nd Generation
List of 2nd Generation unit members.
Trainee 3rd Generation
JKT48 3rd Generation Kenkyuusei divided into two teams (Akagumi & Shirogumi), each team will have their own shonichi (Akagumi in noon show and Shirogumi in evening show) and will perform the stage on separate schedule. On December 17, 2014. Akagumi And Shirogumi are merged Into One Team JKT48 Trainee In Pajama Drive Nakabi Stage.
List of 3rd Generation unit members.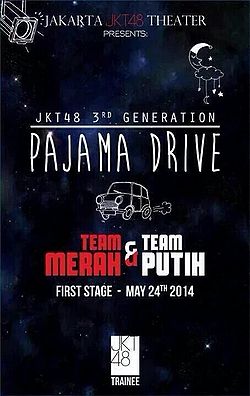 Shonichi
Akagumi (Noon)
Shirogumi (Evening)
Nakabi
Senshuuraku (Nakabi)
VTR Announcement Team T On JKT48 Trainee Event Mulai Sekarang Sungguh-Sungguh Part 2. The stage was continued to Team T Waiting Stage.
Unders
Trainee 4th and Candidate Trainee 5th Generation
List of 4th and 5th Generation unit members.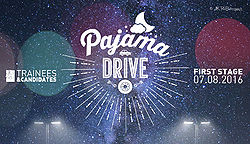 Shonichi
Senshuuraku
Unders
Academy Class A (3rd, 5th, 6th, and 7th Generation)
List of Academy Class A unit members.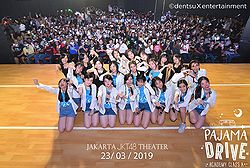 Shonichi
Trivia
Announced on Road to JKT48 7th Anniversary.
Febrina Diponegoro didn't participate on the first two shows as a normal line up although she appeared on the first show as one of backdancer. She starts to participate from the 3rd show.
The majority of the line ups on this stage are filled with the 6th and 7th generations. Because demotion system has been being applied, any member from any generation who get demoted can participate again in this stage for the 2nd time, Eve Antoinette Ichwan (5th Generation) and Stephanie Pricilla Indarto Putri (3rd Generation) are members who get demoted and are given 2nd chance to do this stage again.
Swap
Notes: The members who are listed before the vertical bar "|" is the 2nd show unit swap when the rest got their first show. After the vertical bar "|" is for the another shows.
Unders and Possition Swap
Center Swap
DVD Release
Artist

DVD

Pajama Drive "Senshuuraku"

Release Date

2013.07.06

Label/Catalog Number/Price

Label: HITS Records
(CD & DVD Set Box) / Rp 200.000
1st Generation have audio and video recording while the 2nd Generation have video recording.
Trivia
This stage is the first stage for all of JKT48 Generation except for few members. However, almost all of JKT48 members have tried this stage either when they were on AKB48 or in JKT48.

Members who never participate on this stage until their graduation: Siti Gayatri, Intania Pratama Ilham, Fahira, Althea Callista, Nurhalima Oktavianti, Pipit Ananda, Mega Suryani, Jessica Berliana Ekawardani, Anggita Destiana Dewi, Rissanda Putri Tuarissa, Jihan Miftahul Jannah, Denise Caroline, Putri Cahyaning Anggraini, Amanda Priscella, Erika Sintia, Erika Ebisawa Kuswan, Kanya Caya, Calista Lea.
Members who never participate on this stage yet (many of them have been promoted to the team, but there can be less chance to try this stage altough just once in a stage period): Rinanda Syahputri, Kandiya Rafa Maulidita, Ariella Calista Ichwan, etc.
Members who ever participate on this stage when they were AKB48 members (or after get mutation from JKT48): Nakagawa Haruka, Takajo Aki, Kawamoto Saya.

The 3rd Generation video recording have been recorded but haven't released yet.
This stage had been used as Waiting Stage for Team T and Team KIII while Team J used Boku no Taiyou as their Surprise Stage.