Ernalyn Ann Zabala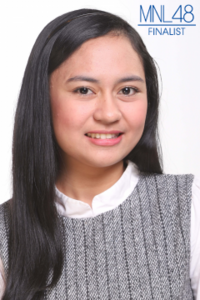 Ernalyn Ann Zabala was a MNL48 1st Generation Candidate.
Profile
Name: Ernalyn Ann Zabala (エルナリン・アン・ザバラ)
Nickname: Alyn (アリン)
Age: 23 Years Old
Birthdate: February 12, 1999
Birthplace:

Caloocan City, Metro Manila, Philippines
Height: 155cm

Trivia
Special skills: Spoken poetry and can sleep anywhere
Favorite colors: Pastel colors
Favorite books: Bible and inspirational books
Favorite AKB48 song: Koisuru Fortune Cookie
Admires Maeda Atsuko.
Loves to take pictures.
Describes herself as curly, obedient, and a believer.
Media Appearances
TV Shows
Gallery