SNH48 Kouhaku Utagassen 2014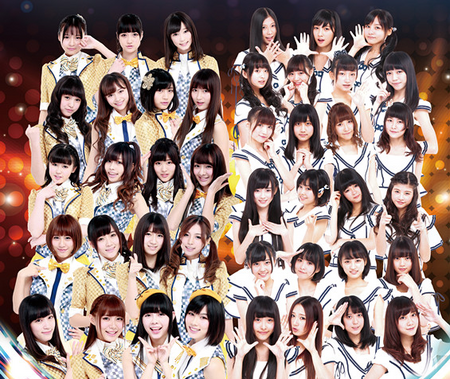 The SNH48 Kouhaku Taikou Uta Gassen (SNH48 紅白歌合戦 SNH48 Hóngbái gē hézhàn) was held on January 18th 2014 at Shanghai Indoor Stadium. This was SNH48's 1st Kouhaku, which is an event based on NHK's own Kouhaku Taikou Utagassen and AKB48's Kouhaku Utagassen. This year, Team SII won the Kouhaku.
Description
The Kouhaku divides SNH48, 2 teams, usually Akagumi and Shirogumi, however remained Team SII and Team NII for this Kouhaku. The teams then compete in a singling competition and the best team wins. The fans and judges decide the winner.
Setlist
Prologue
00. overture (SNH48 Version)
01. RIVER
02. Melos no Michi
03. Beginner

MC
A New World
04. Kondo Koso Ecstasy (Team SII)
05. Ai no Imi wo Kangaete Mita (Team NII)
06. End Roll (Chen GuanHui, Li YuQi, Wu ZheHan, Zhao JiaMin)
07. Wagamama na Nagareboshi (Meng Yue, Luo Lan)
08. Zero Sum Taiyou (Team SII)
09. Saka Agari (Team NII)

MC
Chaos
10. Theater no Megami (Team SII)
11. Team SII Oshi (Team SII)
12. Saishuu Bell ga Naru (Team NII)
13. Kaiyuugyo no Capacity (Team NII)
14. Arashi no Yoru ni wa (Xu JiaQi, Chen Si, Dai Meng, Wen JingJie)
15. Candy (Kong XiaoYin, Zhang YuGe, Qiu XinYi)
16. Oshibe to Meshibe to Yoru no Chouchou (Wan LiNa, Lu Ting)
17. Hatsukoi Dorobou (Lin SiYi, Zhao Yue, Gong ShiQi)

MC
Female Singers
18. Nakinagara Hohoende (Xu ChenChen)
19. Yokaze no Shiwaza (Ju JingYi)

The Last Dance
20. Mammoth
21. Coolgirl
22. Honest Man
23. Bokutachi no Kami-hikouki

Victory
EN01. Heart Ereki
EN02. Heavy Rotation + Koi Suru Fortune Cookie REMIX

SNH48 3rd Generation Auditions Announced