Zambi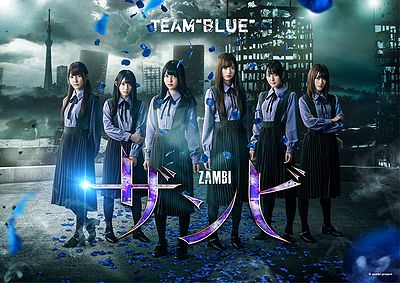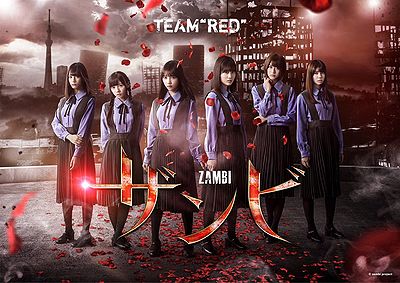 Zambi (ザンビ) or Zambi Project (ザンビ プロジェクト) is a multi-pronged production in television, video games, and theater featuring members of Nogizaka46 and, to a lesser extent, members of Keyakizaka46 and Hinatazaka46. It was announced during the final day of Nogizaka46's 6th Year Birthday Live. It is the first collaboration between Nogizaka46, Keyakizaka46, and Hintazaka46.
Stage Play
Zambi
The first production was a stage play titled "Zambi" held at Tokyo Dome City Hall on November 16 to 25, 2018.
The members were divided into two teams where they shared the roles of the stage play. After the performances, there was a mini-live where a few of the cast perform songs from both groups.
Team Red
Team Blue
Zambi - Theater's End
The third production is the second stage play called "Zambi - Theater's End." It ran from February 7 to 17, 2019 at the Galaxy Theater Tokyo.
Team Yellow
Team Black
Team Green
Zambiroom
The fifth production is another stage play. It ran from July 31 to August 11, 2019. Each group would rotate daily taking on the production.
Participating Members
Nogizaka46: Suzuki Ayane, Terada Ranze, Hori Miona, Watanabe Miria, Ito Riria, Iwamoto Renka, Umezawa Minami, Kubo Shiori, Sakaguchi Tamami, Sato Kaede, Nakamura Reno, Yamashita Mizuki, Yoshida Ayano Christie, Endo Sakura, Kaki Haruka, Kakehashi Sayaka, Kanagawa Saya, Kitagawa Yuri, Shibata Yuna, Seimiya Rei, Tamura Mayu, Tsutsui Ayame, Hayakawa Seira, Yakubo Mio
Keyakizaka46: Ishimori Nijika, Uemura Rina, Ozeki Rika, Oda Nana, Koike Minami, Kobayashi Yui, Sato Shiori, Saito Fuyuka, Sugai Yuuka, Suzumoto Miyu, Nagasawa Nanako, Habu Mizuho, Moriya Akane, Watanabe Rika, Inoue Rina, Seki Yumiko, Takemoto Yui, Tamura Hono, Fujiyoshi Karin, Matsuda Rina, Matsudaira Riko, Morita Hikaru, Yamasaki Ten
Drama
The second production is a television drama also titled "Zambi," which started airing on Nippon TV on January 23, 2019. It airs on early Thursday morning at 0100 to 0130 Japan time. It is also available on the streaming service, Hulu Japan, with commentary by some Nogizaka46 members. Saito Asuka is the lead with Hori Miona and Yoda Yuki.
Cast
Video Game
The fourth production is a mobile game called "Otome Kagura - Zambi no Requiem" (乙女神楽 ~ザンビへの鎮魂歌~).
Cast
External Links