47 no Suteki na Machi e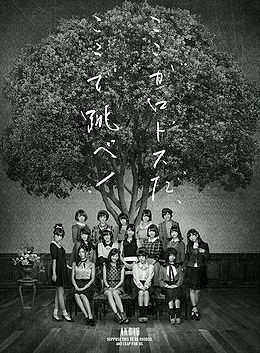 47 no Suteki na Machi e is a coupling song from AKB48's 37th single Kokoro no Placard, by Team 8. The song is also included in AKB48's 4th original album Koko ga Rhodes da, Koko de Tobe!.
Information
Artist
Composer
Arranger
Kanji Title

47の素敵な街へ
Romaji Title

47 (Yon-Jyuu-Nana) no Suteki na Machi e
English Title

To 47 Wonderful Towns
Single
Lyrics can be found here.
Performing Members
Team 8: Abe Mei, Iwasaki Moeka, Okabe Rin, Okubora Chinatsu, Oguri Yui, Ota Nao, Oda Erina, Onishi Momoka, Kita Reina, Gyoten Yurina, Kuranoo Narumi, Kondo Moeri, Sakaguchi Nagisa, Sato Akari, Sato Shiori, Sato Nanami, Shitao Miu, Shimizu Maria, Shimoaoki Karin, Takaoka Kaoru, Takahashi Ayane, Tani Yuri, Tanikawa Hijiri, Cho Kurena, Nakano Ikumi, Nagano Serika, Hashimoto Haruna, Hama Sayuna, Hamamatsu Riona, Hayasaka Tsumugi, Hitomi Kotone, Hidaritomo Ayaka, Hirose Natsuki, Fukuchi Rena, Fujimura Natsuki, Honda Hitomi, Miyazato Rira, Mogi Kasumi, Moriwaki Yui, Yaguchi Moka, Yamada Nanami, Yamamoto Ai, Yamamoto Ruka, Yokomichi Yuri, Yokoyama Yui, Yoshikawa Nanase, Yoshino Miyu
Music Video (Short Ver.)
AKB48 Request Hour
Concert Units
Trivia
Hattori Yuna replaces Okubora Chinatsu as the representative of Gifu in the music video since the latter already graduated by the time of the music video's release.