Theater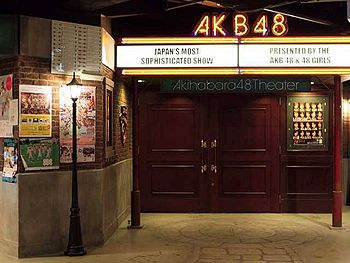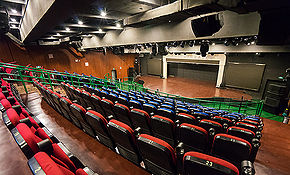 A theater (劇場 Gekijō) is one of the permanent locations where AKB48, SNH48 or a sister group perform almost everyday. Each of the current 48 groups has its own theater at a separate location. Performances at the theater are almost always a set of songs called a Stage, which can be original or a revival of a previous stage. The Team in a group often perform separate stages simultaneously.
Overview
AKB48, SNH48, and their sister groups have their own theaters in their respective base areas, and hold about two hours of theater performances consisting of singing, dancing and MC. Regular performances are held for each team, and a set list determined by 16 people per performance will be shown. Performances are 1-2 per day. It is held almost every day, changing the appearance team. Depending on the start time, it is distinguished from daytime performances, snack performances, night performances, etc. To see the performance, you need to apply at the ticket center in advance. Viewing tickets are sold for each performance, and those who win the lottery from among the applicants can purchase tickets on the day of the performance and enter the theater.
Theaters not only have a stage, they also have cafeterias, merchandise shops, rehearsal rooms, recording studios and some, like SNH48's theater, have dormitories for members.
Sakamichi Series groups don't have theater, nor do they perform stages. Also STU48, MNL48, AKB48 Team TP, AKB48 Team SH, CGM48, BEJ48 and CKG48 don't have a permanent theater, so they then perform in rotating leased enclosures. SGO48 and SDN48 didn't have its own theater either, the latter used the theater of AKB48.
Current Theaters
List of current permanent theaters.
Group
Theater
Location
Activity Period
Notes
AKB48
AKB48 Theater
Akihabara, Tokyo, Japan
2005.12.08 -
SKE48
SKE48 Theater
Sakae, Nagoya, Japan
2012.12.09 -
NMB48
NMB48 Theater
Namba, Osaka, Japan
2011.01.01 -
Only 48g theater located underground
HKT48
HKT48 Theater
Hakata, Fukuoka, Japan
2020.11.02 -
Also called NISHI-NIPPON CITY BANK HKT48 THEATER
They previously performed in a non-permanent theater
NGT48
NGT48 Theater
Niigata, Niigata, Japan
2016.01.10 -
JKT48
JKT48 Theater
Jakarta, Indonesia
2012.09.08 -
BNK48
BNK48 Theater
Bangkok, Thailand
2018.04.26 -
Also called BNK48 The Campus
SNH48
SNH48 Theater
Shanghai, China
2013.08.30 -
GNZ48
GNZ48 Theater
Guangzhou, Guangdong, China
2016.04.20 -
Also called GNZ48 Theater & Village
All SNH48 Group theaters are called "Star Dream Theater" (星梦剧院 Xīng mèng jùyuàn)
Closed Theaters
List of theaters that were closed.
Projected Theaters
List of theaters whose construction was announced.
| Group | Theater | Location | Projected opening date | Notes |
| --- | --- | --- | --- | --- |
| MNL48 | MNL48 Theater | Quezon City, Metro Manila, Philippines | TBA | Under construction and is still unfinished as of 2022 |