Unit Matsuri 2013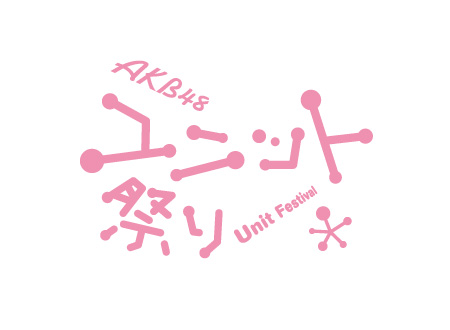 The AKB48 Unit Matsuri 2013 (ユニット祭り2013) was held on January 23, 2013 at Tokyo Dome City Hall. It was the second Unit Matsuri to be held.
Description
The Unit Matsuri was created due to the popularity of stage songs, solo singles and sub-unit singles. This event combines the best of those into a festival concert.
Setlist
M00. overture
M01. 1994-nen no Raimei (Itano Tomomi, Shinoda Mariko, Takahashi Minami, Oshima Yuko, Kojima Haruna)

MC
M02. Shuumatsu Not yet (Not yet)
M03. Naminori Kakigoori (Not yet)
M04. Hatsukoi Dash (Watarirouka Hashiritai 7)
M05. Zutto Mae Kara (French Kiss)
M06. Lost the way (DiVA)
M07. Ikuji Nashi Masquerade (Sashihara Rino + Murashige Anna, Nakanishi Chiyori, Motomura Aoi)

MC
M08. Aruji Naki Sono Koe (NO NAME)
M09. Kirigirisu Jin (No Sleeves)
M10. Pedicure day (No Sleeves)
M11. Shoujotachi yo (All)

MC
M12. Pajama Drive (AnRiRe)
M13. Nage Kiss de Uchi Otose! (Oshima Ryoka, Kizaki Yuria, Kimoto Kanon, Kodama Haruka, Shiroma Miru, Tomonaga Mio)
M14. Choco no Yukue (Shimazaki Haruka, Matsui Rena, Miyawaki Sakura, Yogi Keira)
M15. Kuroi Tenshi (Takahashi Juri, Nagao Mariya, Mukaida Manatsu)
M16. Blue rose (Abe Maria, Maeda Ami, Fujie Reina, Matsuoka Natsumi)
M17. Tsundere! (Tano Yuka, Watanabe Miyuki, Yamauchi Suzuran)
M18. Hatsukoi yo Konnichiwa (Tashima Meru, Yagura Fuuko, Furuhata Nao)
M19. Kagami no Naka no Jean Da Arc (Iwata Karen, Okada Nana, Suga Nanako, Fujimoto Mitsuki, Yamamoto Sayaka)
M20. Faint (Matsui Jurina, Muto Tomu, Moriyasu Madoka)

MC
M21. Otona Jelly Beans (Kashiwagi Yuki, Sashihara Rino)
M22. Kuchibiru Furezu... (Watarirouka Hashiritai 7 + AnRiRe)
M23. Suika Baby (DiVA + No Sleeves)
M24. Kanpeki Gu~no ne (French Kiss + Not yet)

MC
M25. Fui ni / 10nen go no Kimi e / Clone (Itano Tomomi)
M26. Moshimo Watashi ga Sora ni Sundeitara (Iwasa Misaki)
M27. Soredemo Suki da yo (Sashihara Rino)
M28. Masaka (Kasai Tomomi)
M29. Hikaru Monotachi (Watanabe Mayu)
M30. Shortcake (Kashiwagi Yuki)

Encore
EN01. UZA
EN02. Gingham Check
EN03. First Rabbit

MC
EN04. Manatsu no Sounds Good!