SNH48 REQUEST TIME 2nd Edition BEST 30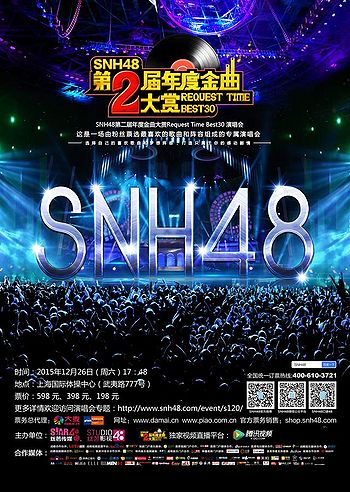 The SNH48 REQUEST TIME BEST 30 2nd Edition (SNH48第二届年度金曲大赏REQUEST TIME BEST 30) was the second Request Hour of SNH48 which was held last December 26, 2015. Fans made their voices heard by voting their favorite SNH48 album/single/stage songs.
Description
SNH48 REQUEST TIME BEST 30 2nd Edition is SNH48's 2nd Request Hour, held at the Shanghai International Gymnastics Center. A voting ticket was included in Halloween Night and Sweet & Bitter.

This also marks SNH48 the first in the 48Group to held two Request Hours within a year. Their 1st Request Time was held last January 31, 2015.
Performing Members
Setlist
Best 30 Countdown Begins
30. Gyakuten Oujisama (Zhang Xin, Yang HuiTing, Xie Ni)
29. Kaiyuugyo no Capacity (Team X)
28. Tooku ni Ite mo (Team HII)
27. Korogaru Ishi ni Nare (Team HII)
26. Yume no Kawa (Xu ChenChen)
25. Pajama Drive (Chen JiaYing, He XiaoYu, Sun XinWen)
24. Boku to Juliet no Jet Coaster (Li Jing, Shen ZhiLin, Wen JingJie)
23. Kiseki wa ma ni Awanai (Wu ZheHan, Chen GuanHui, Jiang Yun)
22. Tonari no Banana (Zhao Yue, Qiu XinYi)
21. Wimbledon e Tsureteitte (Dong YanYun, Gong ShiQi, Wan LiNa)
20. 16nin Shimai no Uta (Lu Ting, Tang AnQi, Zhao Yue)
19. Kuroi Tenshi (Liu JiongRan, Xu YangYuZhuo, Tang AnQi)
18. RESET (Team SII)
17. Yokaze no Shiwaza (Feng XinDuo)
16. Candy (Chen Si, Luo Lan, Wang Shu)
15. Junjou Shugi (Xu JiaQi, Yuan YuZhen, Xu Han)
14. Glory days (Lu Ting, Kong XiaoYin, Sun Rui)
13. Miniskirt no Yosei (Li YuQi, Yuan DanNi, Zhao Ye)
12. Higurashi no Koi (Ju JingYi, Lin SiYi)
11. Tenshi no Shippo (Shao XueCong, Song XinRan, Meng Yue)
10. Enjou Rousen (Huang TingTing, Zhao Yue)
09. Itoshisa no Accel (Ju JingYi)
08. Heart Gata Virus (Zhang DanSan, Yang BingYi, Yang YunYu)
07. Temodemo no Namida (Lu Ting, Feng XinDuo)
06. Seifuku Resistance (Dai Meng, Mo Han, Zhang YuGe)
05. Dakishimeraretara (Dai Meng, Huang TingTing, Qiu XinYi)
04. Ame no Pianist (Li YiTong, Xu ZiXuan, Liu PeiXin)
03. Romance Kakurenbo (Tang AnQi)
02. BINGO! (Team NII)
01. Oshibe to Meshibe to Yoru no Chouchou (Li YiTong, Huang TingTing)

ENCORE
EN01. New Year's Bell
External Links