Team X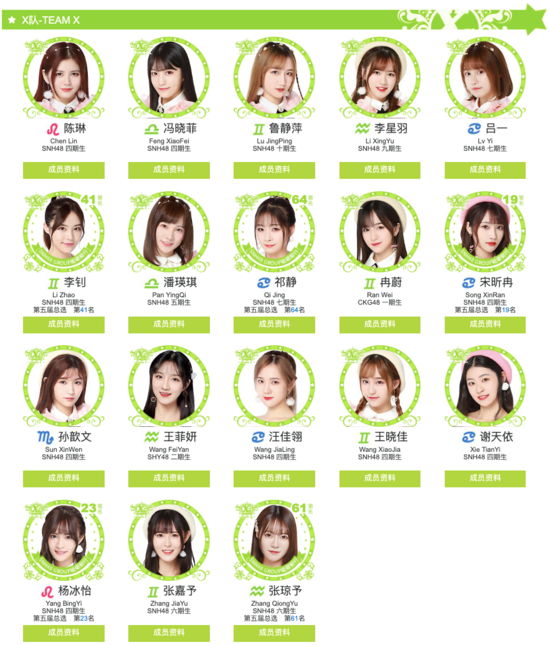 SNH48's Team X (X队). Their team color is Light Green. They currently have 21 members.
Transferred Members
List of members who have transferred
Graduated
List of members who have graduated or have cancelled her concurrent position
Stages
Team X Songs on SNH48 Albums and EPs
Other Team X Songs
Trivia
This team is named after the Chinese word Xinren (新人), meaning "new talent" or "newcomer"
Chart
Team
Picture
Pinyin
Name in Mandarin
Nickname
Birthdate
Birthplace
Blood Type
Age
Height
Agency
Generation

X

Chen Lin
陈琳
DaTou (大头)
Lynn
July 24, 1998
Shanghai, China
O
21
165cm
Shanghai Siba culture media Ltd.
4th

X

Feng XiaoFei
冯晓菲
HuiHui (灰灰)
October 17, 1995
Henan, China
B
23
160cm
Shanghai Siba culture media Ltd.
4th

X

Lu JingPing
鲁静萍
Mei Mei/Sister (妹妹)
June 3, 2002
Jiangsu, China
B
17
163cm
Shanghai Siba culture media Ltd.
10th

X

Li XingYu
李星羽
Pāopāo (抛抛)
February 6, 2000
Shanghai, China
O
19
163cm
Shanghai Siba culture media Ltd.
9th

X

Lv Yi
吕一
Kokoro
KouKou Yi (口口一)
June 27, 1997
Chongqing, China
A
22
164cm
Shanghai Siba culture media Ltd.
7th

X

Li Zhao
(Captain)
李钊
TaoZi (桃子)
May 23, 1998
Hunan, China
**
21
165cm
Shanghai Siba culture media Ltd.
4th

X

Pan LuYao
潘璐瑶
LuEr (鹿儿)
July 10
Shanghai, China
AB
**
165cm
Shanghai Siba culture media Ltd.
12th

X

Pan YingQi
潘瑛琪
XingYu (星羽)
YuYu (羽羽)
September 27, 1999
Shanghai, China
AB
20
164cm
Shanghai Siba culture media Ltd.
5th

X

Qi Jing

祁静
Sky
July 7, 1998
Shanghai, China
**
21
167cm
Shanghai Siba culture media Ltd.
7th

X

Ran Wei
毛译晗
RuǎnRuǎn (软软)
WèiWèi (蔚蔚)
May 21, 1999
Sichuan, China
**
20
160cm
Shanghai Siba culture media Ltd.
CKG48 1st

X

Song XinRan
宋昕冉
RanRan (冉冉)
July 8, 1997
Shandong, China
O
22
165cm
Shanghai Siba culture media Ltd.
4th

X

Sun XinWen
孙歆文
XinWen (新闻)
November 4, 1995
Shanghai, China
B
23
170cm
Shanghai Siba culture media Ltd.
4th

X

Wang FeiYan
王菲妍
QiQi (七七)
QiBao (柒宝)
January 27, 2000
Liaoning, China
**
19
166cm
Shanghai Siba culture media Ltd.
SHY48 2nd

X

Wang JiaLing
汪佳翎
JiuJiu (九九)
July 13, 1999
Fujian, China
O
20
172cm
Shanghai Siba culture media Ltd.
4th

X

Wang RuiQi
王睿琦
RuiQi (睿琦)
December 15, 1999
Inner Mongolia, China
B
19
167cm
Shanghai Siba culture media Ltd.
SHY48 4th

X

Wang XiaoJia
王晓佳
TianCao (天草)
May 31, 1993
Hunan, China
B
26
170cm
Shanghai Siba culture media Ltd.
4th

X

Xie TianYi
谢天依
BenBen (笨笨)
June 24, 1998
Beijing, China
A
21
168cm
Shanghai Siba culture media Ltd.
4th

X

Yang BingYi
(Co-Captain)
杨冰怡
ErShui (二水)
July 26, 2000
Hainan, China
AB
19
165cm
Shanghai Siba culture media Ltd.
4th

X

Zhang DanSan
张丹三
TanSuan (碳酸)
April 28, 1997
Hubei, China
AB
22
162cm
Shanghai Siba culture media Ltd.
4th

X

Zhang JiaYu
张嘉予
MuMu (沐沐)
June 15, 2001
Zhejiang, China
B
18
169cm
Shanghai Siba culture media Ltd.
6th

G / X

Zhang QiongYu
张琼予
Soso
Rinako
January 21, 1997
Zhejiang, China
**
22
163cm
Guangzhou Siba culture media Ltd.
SNH48 6th