SNH48 REQUEST TIME 3rd Edition BEST 50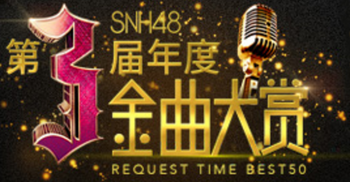 The SNH48 REQUEST TIME BEST 50 3rd Edition (第三届年度金曲大赏BEST50 REQUEST TIME) is the third Request Hour of SNH48 which will be held in January 7, 2017. Fans made their voices heard by voting their favorite SNH48, BEJ48 and GNZ48 album/single/stage/other songs.
Description
SNH48 REQUEST TIME BEST 50 3rd Edition is SNH48's 3rd Request Hour, held at the Mercedes Benz Arena. A voting ticket was included in Princess's Cloak.

Setlist
Best 50 Countdown Begins
50. Women Bushi Tianshi (Chen MeiJun, Lin XiHe, Li ShiYan)
49. Qingchun Jianbingjian (Team B)
48. Chime wa LOVE SONG (Team HII)
47. Fei ni Buke (Team XII)
46. Hello! Mr. Weilai (Team E)
45. Suki Suki Suki (Team G)
44. Mengxiang de Qizhi (Team X)
43. Zheyang de Wo (Team NIII)
42. Jiangluosan (Xu ChenChen)
41. Wagamama na Nagareboshi (Gong ShiQi, Yi JiaAi)
40. Romance Kakurenbo (Cantonese ver.) (Lin JiaPei, Feng JiaXi)

M07. Yaobai Jiepai (Team SUZUKI / Team NII)

M08. Chaoliu Guanjun (Team SUZUKI / Team SII)

MC
39. Candy (Lin Nan, Yuan Hang, Yang HuiTing)
38. Heart Gata Virus (Yi YanQian, Niu CongCong, Hu BoWen)
37. Lay down (Zeng YanFen)
36. Gyakuten Oujisama (Huang TongYang, Shao XueCong, Li JiaEn)
35. Kuroi Tenshi (Hong PeiYun, Xie LeiLei, Hu XiaoHui)
34. Wimbledon e Tsureteitte (Wang Shu, Yan JiaoJun, Zeng YanFen)
33. Hatsukoi Dorobou (Xu Han, Chen GuanHui, Wen JingJie)
32. Sweet & Bitter (Sun XinWen, Jiang ShuTing, Zou JiaJia)
31. Seifuku Resistance (Song XinRan, Duan YiXuan, Zhang DanSan)

30. Sakura no Hanabiratachi (Feng XinDuo)
29. Kinjirareta Futari (Wan LiNa, Sun ZhenNi)
28. Ame no Pianist (Yang BingYi, Yi JiaAi, Gong ShiQi)
27. Tonari no Banana (Lu Ting, Feng XinDuo)
26. Tsundere! (He XiaoYu, Chen JiaYing, Su ShanShan)
25. Pajama Drive (Huang TingTing, Liu ZengYan, Ma YuLing)
24. Kataomoi no Taikakusen (Feng XiaoFei, Qian BeiTing, Sun Rui)
23. Enjou Rousen (Liu JiongRan, Xu JiaQi)
22. Xiayizhan Shi Ni (Feng XinDuo, Li YiTong)
21. Everyday (Ju JingYi)

M13. Shicha Mima (SHY48 - Team SIII debut)

20. Dakishimeraretara (Zhang YuGe, Xu YangYuZhuo, Xie Ni)
19. Boku to Juliet to Jet Coaster (Li Xiang, Liu ShengNan, Pan YingQi)
18. Oshibe to Meshibe to Yoru no Chouchou (Ju JingYi, Lin SiYi)
17. Junjou Shugi (Chen MeiJun, Zhou Yi, Zheng DanNi)
16. Zannen Shoujo (Yu JiaYi, Zhang YuXin, Li YuanYuan)
15. Tenshi no Shippo (Fei QinYuan, Jiang Shan, Zhang Yi)
14. Kuchi Utsushi no Chocolate (Dai Meng, Wan LiNa, Xu ZiXuan)
13. Glory Days (Jiang Yun, Li YuQi, Yuan YuZhen)
12. Itoshisa no Accel (Lu Ting)
11. Tian Hei Riji (Zhang YuGe)
10. Itoshisa no defense (Kong XiaoYin, Mo Han, Qiu XinYi)
09. Ookami to Pride (Dai Meng, Mo Han)
08. Hajimete no Jelly Beans (Yang YunYu, Lin SiYi, Li Zi)
07. Kiseki wa Ma ni Awanai (Liu JiongRan, Xu JiaQi, Qing YuWen)
06. First Rabbit (Team NII)
05. Seishun no Inatzuma (Huang TingTing)
04. Mu'ou (Li YiTong)
03. Wo de Wutai (Team SII)
02. Temodemo no Namida (Huang TingTing, Li YiTong)
01. Don't touch (Ju JingYi, Zeng YanFen, Zhao Yue)
EN01. Happy Wonder World

Preliminary Results
List of songs of the 1st and 2nd preliminary results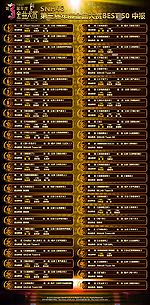 | | |
| --- | --- |
| 1st Preliminary Results 2016/10/28 - | 2nd Preliminary Results 2016/11/13 |
Request Time (Full ver.)
First Part
Second Part
Trivia
Originally planned as "BEST 30".
Rewards: The most popular song (#1) and the most popular team song will have a MV for each one.