SNH48 2nd Senbatsu Election
The SNH48 2nd Senbatsu Election "Mèngxiǎng Gāofēi" (SNH48第二屆總選舉 "夢想高飛") is the second Senbatsu Election held by SNH48. Ballots were included in SNH48's 8th Single, Manatsu no Sounds Good!. The online single had partial votes (0.1 out of 1), while the physical single had full votes. The top 16 members are featured in the Top Girls of the group's 9th single. Meanwhile, the 17th to 32nd place members join Undergirls for the B-side track.
Selected Members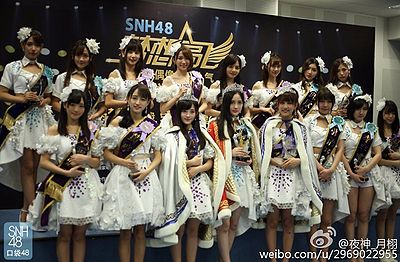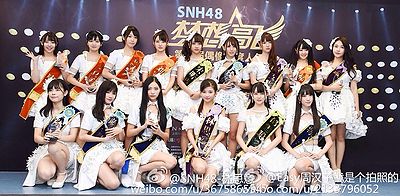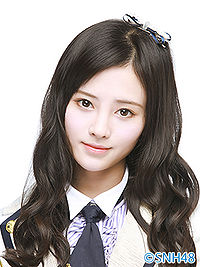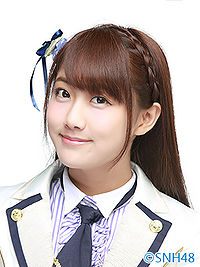 Final Results
Names in Bold denotes the Top Girls
1st Preliminary Results
2nd Preliminary Results
Participating Members
Timeline
2015
May 20th at 10:00am CST to July 25th at 10:00am CST: Voting period for Manatsu no Sounds Good! single ballots
May 30: 1st preliminary results
July 01: 2nd preliminary results
July 25: SNH48 9th Single Senbatsu Elections final results
Trivia
The Top Girls MV will be filmed in Europe and the Undergirls MV in China.
Zhang YuGe is the only member whose rank didn't change.
Huang TingTing had the biggest ranking increase (from non-rank to #4), while Wu ZheHan had the biggest ranking decrease (from #1 to non-rank).
Comparing from last year's results, both Wu ZheHan and Xu ChenChen dropped out from the rankings in this year's election.
Top 5 and some 32 Members have been selected to participate in a TV series 《 万脂胭红/ Wan Zhi Yan hong》 already on contract as much as 40 episodes along with other celebrities and another historical remake drama called 《 甄嬛传/ Huan Zhen Chuan》.
All Top 32 Members will appear in 扭蛋妹妹 (第一季) 《Niu And Meimei (Yi Dì Jì)》.
Top Girls will appear in a famous TV Show, Undergirls will perform on the well known TV Show.
Top 3 will be made into a Sub Unit, release a Single (EP), act in an Independent movie, as well as a solo variety show and a photoshoot.
Top 3 will also be present at the Cannes Film Festival 2016 and will be walking on the red carpet and taking interviews as well.
The winners are going to get their own statue and left their hand prints on a special wall (like the Hollywood's Walk of Fame).