SNH48 5th Senbatsu Election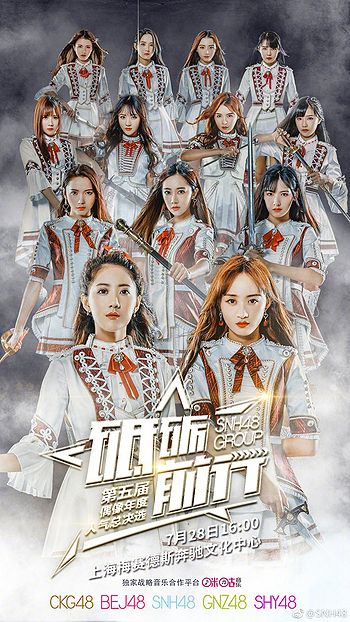 The SNH48 5th Senbatsu Election "Dǐlì Qián Xíng" (SNH48第五届偶像年度人气总决选 "砥砺前行") is the fifth Senbatsu Election held by SNH48. It will be held on July 28, 2018. Ballots were included in SNH48's 20th Single, Forest Theorem. Fans made their voices heard by voting for their favorite SNH48/BEJ48/GNZ48/SHY48/CKG48 member at the fifth annual SNH48 Group members election.
The top 16 members are featured in the Top Girls of the group's 21st single. Meanwhile, the 17th to 32nd place members join Undergirls for the B-side track, the 33rd to 48th place members join the Next Girls unit for the 2nd B-side track and the 49th to 66th place members join the Future Girls unit for the 3rd B-side track.
Eligible Members
For a member to participate in the Senbatsu Sousenkyo, she must first be an active member of SNH48, BEJ48, GNZ48, SHY48 or CKG48.
Selected Members
Final Results
Top 66 Members

Names in bold denote the Top Girls
2nd Preliminary Results
1st Preliminary Results
Participating Members
Team SIII: Feng YiYing, Fu ZiQi, Guan SiYu, Han JiaLe, Lai ZiXi, Li BinYu, Li Hui, Liu Jiao, Liu Na, Lu TianHui, Si PoLin, Sun Min, Wang ShiMeng, Yang YunHan, Zang Cong, Zhao JiaRui, Zhao TianYang, Zheng ShiQi, Zhou JiaYi
Team C: Bai XinYu, Lei YuXiao, Li EnRui, Li ShanShan, Mao YiHan, Meng Yue, Qiao YuZhen, Ran Wei, Tao WanRui, Tian QianLan, Wang MengZhu, Wang YuBo, Wu HanQi, Xu ChuWen, Xu HuiLing, Zeng Jia, Zuo Xin
Team K: Ai ZhiYi, Deng Qian, Han LinQin, Hao JingYi, Huang WanYing, Li YuXuan, Lin ShuQing, Liu JiongRan, Tian ZhenZhen, Wang LuJiao, Wei XiaoYan, Wu JingJing, Wu XueYu, Xia WenQian, Zhang YuYang, Zhao ZeHui
Election Breakdown
Out of the 66 members who ranked in, 36 came from SNH48, 16 came from BEJ48, 11 came from GNZ48, and 3 came from SHY48. Kennins are counted as part of their original teams:
SNH48 = 36 members

Team SII = 13 members
Team NII = 8 members
Team HII = 9 members
Team X = 6 members

BEJ48 = 16 members

Team B = 7 members
Team E = 5 members
Team J = 4 members

GNZ48 = 11 members

Team G = 4 members
Team NIII = 7 members
Timeline
2018
May 17: Release of Forest Theorem.
June 9: Launching ceremony.
June 9 to July 28: voting period for Forest Theorem ballots.
June 17: Announcement of 1st Preliminary results.
July 08: Announcement of 2nd Preliminary results.
July 28: SNH48 21st Single Senbatsu Selections final results.
Trivia
Members who didn't apply:
The first election to feature CKG48 members.
Feng SiJia had the biggest ranking increase (from non-rank to #29), while Liu JiongRan had the biggest ranking decrease (#24 to non-rank).
First senbatsu with a member of GNZ48
The MV for Top Girls will be shooting in Croatia, for Undergirls in Hong Kong, for Next Girls and Future Girls in Korea.
External Links